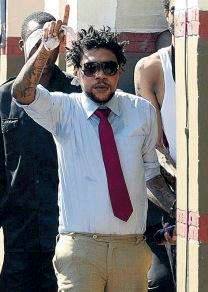 Expert can't say if text messages came from Kartel's phone
BY PAUL HENRY Coordinator – Crime/Court Desk [email protected]
Monday, December 16, 2013
Print this page Email A Friend!
AN expert from telecoms giant Digicel testified on Friday that he was unable to say whether text messages recovered by the police were sent from devices owned by murder accused Vybz Kartel or his co-accused.
Mario Ghantous Assaad, Digicel's group chief technology officer, testified under cross-examination in the Home Circuit Court that it was possible for a SIM card to be cloned.
[Hide Description] Vybz Kartel
[Restore Description]
1/1
Under questioning from attorney Michael Lorne, Assaad said that it was possible for a mobile phone's unique identification number to be hacked and for a phone call to be placed or a message sent from a cloned mobile phone, making it appear as if the original owner of the phone number was placing the call or sending the message.
Due to these factors, Assaad said he was unable to say if messages reportedly recovered from Digicel's system were actually sent from the original devices which the police are alleging were confiscated from Vybz Kartel and his co-accused.
Responding to a question from Vybz Kartel's attorney Chris Tavares-Finson, Assaad admitted that Digicel's system had in the past been compromised. But he said that the system was in proper working order at the time information regarding phone numbers reportedly assigned to the murder accused were recovered.
The prosecution says it has in its possession several messages allegedly taken from Digicel mobile phones confiscated from the accused men when they were arrested in 2011.
Vybz Kartel (real name Adidja Palmer), Shawn 'Shawn Storm' Campbell, Shane Williams, Andre St John, and Kahira Jones are being tried for murder in the alleged beating death of Clive 'Lizard' Williams on August 16, 2011. All the men belong to the Portmore, St Catherine-based 'Gaza Empire' headed by Vybz Kartel.
On Friday there was some laughter in the courtroom when Lorne asked Assaad, who is a national of Lebanon, a series of questions related to Gaza in the Middle East.
But senior prosecutor Jeremy Taylor objected to the question, telling Justice Lennox Campbell, that he does not understand the line of questioning.