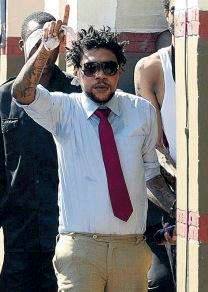 Kartel murder trial returns to open court on January 6
KINGSTON, Jamaica – The murder trial of dancehall entertainer Vybz Kartel and four co-accused returns to open court on January 6 after more than a week in camera.
Justice Lennox Campbell has instructed the jurors to return on that date when they are expected to continue the hear evidence in the case, ONLINE OBSERVER has learned.
A voir dire (trial within trial) which was scheduled to be completed Thursday continues behind closed doors until Friday.
On Monday the court barred the jurors and continued to hear testimony from witness Patrick Linton — a former head of the of the Jamaica Constabulary Force's Cybercrimes Unit — to decide if his evidence is admissible.
Kartel (Adidja Palmer), Shawn 'Shawn Storm' Campbell, Shane Williams, Andre St John, and Kahira Jones are being tried for murder in the alleged beating death of Clive 'Lizard' Williams on August 16, 2011.