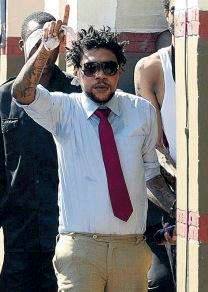 The Vybz Kartel murder trial continued this afternoon with accusations from the defense that a prosecution witness tampered with telephone evidence to secure the conviction of the deejay and his co-accused.
Attorney Pierre Rogers suggested that Detective Sergeant Patrick Linton was a liar and tampered with the phone evidence put before the court.
Rogers said there was a discrepancy with the time stamp that was reflected on the BlackBerry message that told of Clive 'Lizard' Williams being "chopped up like mince meat".
Rogers put it to the witness that he changed the time stamp as the forensic report showed the phone message being created and modified at 12:54 and 20 seconds.
However, he said the memory card from the phone attributed to Vybz Kartel reflects the time as 8:54 and 20 seconds.
However, the witness explained that the times appear different because the latter was in Greenwich Meridian Time and represented the time difference.
Ethium Allen, director of immigration services at Passport, Immigration and Citizenship Agency retook the stand briefly as attorney Tom Tavares-Finson asked him if he knew of persons leaving the island illegally by boat and from unauthorised airstrips.
Deputy Superintendent Vernal Thompson, who is in charge of crime investigations for the St Andrew North division also took to the witness box just before lunch.
He testified to assembling a team based on information received and going to Kartel's Havendale home.
He testified to finding a ransacked house that had been burnt out and smelling a foul odour.
Kartel is jointly charged with fellow entertainer Shawn Campbell also known as Shawn Storm, Kahira Jones, Shane Williams and Andre St John for the August 16, 2011 murder of Clive 'Lizard' Williams.
Williams was allegedly killed in relation to two missing guns.