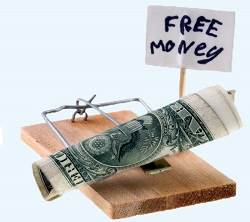 Five young men involved in illegal activity say they will not stop
Having a conscience not an issue in ripping off victims, scammers say
By KIMBERLY WILSON Sunday Observer writer
Sunday, May 11, 2014
Print this page Email A Friend!
DESPITE the clampdown by Jamaica's law enforcement agents, supported by their colleagues in the United States, lottery scammers have vowed to continue with their illegal activity, arguing that it is the only route to quick wealth.
Five scammers who spoke with the Jamaica Observer recently were not disturbed by the fact their activities have resulted in Jamaica's name being splattered across the pages, screens and airwaves of global news organisations.
The scammers, all based in Montego Bay, are between the ages of 17 and 27 and have acquired immense wealth in the form of houses, motor vehicles and stored cash.
"A my life dis, a mi nine-to five dis", one of the young men told the Sunday Observer. "The Government a try stop wi and dem nah provide a better alternative. A five grand fi minimum wage and dat don't even shake mi tuition," the scammer professed.
Others claimed that the illegal activity was a means of survival – a quick way to a luxurious lifestyle and ultimately to rid themselves of poverty.
Many of the lottery scammers are from the lower and middle classes of the society. They said they have experienced hunger and suffered hardships. But the 'game', as they call the lottery scam, came to their rescue and their lives have been completely transformed.
"Mi used to sell inna di market and thing, but den mi have a lot a bredrin weh dem do it, and dem link mi up and seh a ya so di thing deh, yuh nuh, so di thing set", another young scammer said.
"Mi decide mi mind seh mi a go try it one day, yuh nuh, and mi duh suh an mi mek a five bills US. From deh so di thing tek off and mi jus into it", he went on.
Another shared a similar story: "Yuh know seh mi did a work a one hotel though, and mi get fired and thing, and one a mi very close friend start it and mi si seh a deh so di money deh, yu zimme.
This 'job' is one that is open to all and requires no set qualification. There is no age limit and no credential is needed to be successful in this 'field' .
A boy, aged 17, explained why he became a member of the scamming team: "Mi did a go pon di school, yu zeet, but mi si seh right now it nuh mek nuh sense mi a touch di school, cah money cyaan mek pon di school, yu zeet. So mi just stop go a school and tek up the game, yu zeet."
Explaining that he has dubbed scamming the, 'Ghetto Game' , the 17-year-old said that he has already bought a small studio apartment from the proceeds.
Another boasted: "I have gained a car and I also start building my house right now."
The young men described as 'unbelievable' the wealth they have acquired by picking up the phone and calling people they deem to be 'clients' .
"Right now mi have mi car deh drive, mi big van and mi have mi big house said way. Mi build outta it and mi have a bus pon di road said way," stated another of the scammers, who described himself as being "well off".
Others have also built houses, schooled themselves, sent their relatives to school, bought motorbikes, high-end cars and are now able to assist friends and family members who are in dire financial need.
The lottery scam is said to have originated in Montego Bay during 2007. Since then its prominence has increased so much so that the deed is no longer limited to the 'second city' of 82,000 inhabitants, but has spread islandwide.
In July 2012, Senior Superintendent of Police Fitz Bailey, then head of the Organised Crime Investigation Division of the Jamaica Constabulary Force, gave the Sunday Observer an update on the crackdown of scammers by the authorities.
"Between 2007 and 2009 the police confiscated US$283,000 in cash from criminals connected to the scam, 40 high-end luxury vehicles were also confiscated and 102 persons, mostly under age 30, detained," Bailey stated.
The surge in the illegal activity and the resulting murders linked to scamming led to the formation of a special police unit – the Lottery Scam Task Force – which is primarily responsible for clamping down on these activities.
Jamaica's Parliament also enacted legislation that hitherto did not exist, to try and thwart scammers and make the activity a criminal offence.
Some arrests have been made, many of them since the start of this year, but the practice remains alive and kicking, and victims, particularly retirees in the United States, are still undergoing financial destruction as a result of the Jamaican scam artists.
Montego Bay too, where it all started, still experiences outbreaks of crime and violence associated with the fraud, and the western city has failed to throw its tag of 'Scamming Capital' into the garbage bin.
The Statistical Institute of Jamaica reported recently that the "unemployment rate averaged 14.02 per cent between 1991 and 2013, reaching an all-time high of 16.50 per cent in the fourth quarter of 1997 and a record low of 9.80 per cent in the fourth quarter of 2007".
The creative minds behind lottery scamming are listed among the 14.02 per cent of unemployed people in Jamaica and they believe that they have found an ingenious way of filling the employment gap.
The scam requires personal information from individuals overseas in order for it to be successful. This information is provided on what is called a 'lead sheet' .
One scammer explained how he acquired these sheets for use.
"A broker enuh. Di white man dem from foreign sell dem, yuh zimme. Like 600 names, yuh can get dat fi US$500."
He further stated that when shoppers fill out coupons, workers at the stores scan the documents and sell them, in turn benefitting both themselves and the scammers.
This sheet is equipped with names, addresses, social security numbers, and contact telephone numbers of individuals living overseas, most of whom are the elderly. These individuals are mostly retired or working. Others have disposable income.
The fact that most of the victims are elderly amounted to little or nothing in the hearts, minds and consciences of the Jamaican lottery scammers.
"Conscience? Mi neva go a dem yard enuh. A call mi call dem pon di phone enuh and mek dem know seh dem win and from deh suh di thing just tek off," one said sternly in response to the Sunday Observer's query as to whether they were not bothered by what they were doing.
"No! None at all, not one bit," another said before the former could even complete his statement.
"No sah, bada wah man! A mi wen bruk before and now mi have mi own money, can duh wah mi feel," was the 17-year-old's response.
Poverty was once largely blamed for the start of lottery scamming activities, following complaints of insufficient jobs. However, even folk who are educated up to the tertiary level are said to be involved nowadays in the bid to 'earn' quick and easy money.
And the presence of the new police task force, as well as the existing law enforcement units, has failed to deter members of the group, who have said that nothing will stop them, despite admitting that they feared and respected the men in uniform.
"We worry enuh, because nobody nuh like jail. As yuh seet enuh, a 35 years dem a gi yu. So we nuh wah nuh police fi ketch wi enuh, suh from wi hear seh dem a come enuh wi affi jus cut and keep the place clean, so wi nuh run inna dem way," said one of the scammers when asked whether they were afraid of the police.
He said that it was not his choice to refuse to stop, but if he is able to accumulate at least $30 million and is able to care for his family's needs, along with owning some businesses, he will be able to stop.
Another stated that his family did not approve of his involvement in the scam. However, he vowed that only death could make him stop.
While these young men believe that they have found the way to ensuring that they will be wealthy for the rest of their lives, the authorities are increasingly coming under pressure to put an end to the illegal act that is wiping away the life savings of thousands of Americans and creating a huge wave of crime and violence stretching from the second city to other parts of Jamaica.