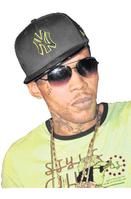 DAMNING BlackBerry messages and video footage painted a trail of possible involvement in the murder of Clive 'Lizard' Williams by Vybz Kartel and his four co-accused in the riveting trial in the Home Circuit Court in downtown Kingston yesterday.
People in the court had their mouths agape when a message sent from a cellular phone attributed to Vybz Kartel, on August 19, 2011 was displayed on a screen and read out by prosecution witness, Detective Sergeant Patrick Linton.
"Tween me an u a chop we chop up the bwoy Lizard fine fine and dash him way inuh. As long as u live dem can never find him," the message stated.
Yet another read: "Yeah man a mince meat dat."
But defence attorney Tom Tavares-Finson objected to the evidence and claimed that Linton had tampered with it.
When the message was first displayed only the words 'Tween me and u' were visible.
However, after Linton adjusted the format the entire sentence appeared and Tavares-Finson objected furiously.
This caused fireworks to fly between himself and Justice Lennox Campbell, who allowed the evidence.
"With the greatest of respect, Your Lordship is ignoring me," Tavares-Finson said angrily.
"Mr Finson, you don't tell what to determine. I will determine that. You will get your chance during cross-examination," Justice Campbell said sternly.
"And you determination is?" Tavares-Finson asked.
"That you sit down," the judge shot back.
At points during the trial, Kartel and Andre 'Mad Suss' St John could be seen leaning over and speaking in hushed tones. It appeared neither was happy with the presentation of the evidence.
Kartel and St John are jointly charged with Shane Williams, Shawn 'Shawn Storm' Campbell and Kahira Jones with the murder of Clive Williams, who police say was beaten to death at a house owned by Kartel in Havendale, St Andrew.
Linton also read a message which suggested Kartel's involvement with guns, two of which police said had gone missing and were the catalyst for the murder.
"Me tell Shawn say him haffi buy dem back and mi still gi him a new 45 weh me just get fi watch him head and me tell him say any man missin dis same treatment," the message stated.
Another set of messages also suggested that Kartel was trying to flee the island and was worried about the probe into the murder.
"Member say a me name WORL BOSS so a mi dem a go send fah. But only 'wee' or 'Shawn can sink we so we haffi watch if police ago pick dem up," one stated.
"Forensic and Crime Scene de a Havendale a look blood sample and DNA," another message read.
Dawg a bare f…..y me ago tek weh meself pan a boat or somn. It look serious as f…," the evidence tendered by the prosecution continued.
"From you a do crime you ever see forensic get involve like this?" another read.
"Me deh far dats if anything me can leave," another message read.
"If me haffi lef di island fast you can assist me?" yet another read.
"U have a link that can make me lef the island fast?"
"Yeah by boat."
Make me know before it get too hot."
At times during Linton's sworn testimony the 12-member panel of jurors seemed riveted, paying keen attention.
The prosecution also tendered into evidence video footage lasting two minutes and 17 seconds which was allegedly recorded at the Havendale house on a cellular phone on August 16, 2011, the day when police say Williams was killed.
The video did not show any faces, but was nonetheless disturbing.
At the beginning of the clip, a man in a red shirt is seen holding a pickaxe and remarked: "Rocky, yow hear we me say a dis me ago use and kill him enuh."
There were other voices heard saying.
"Chop him inna him neck."
"Hold him down and cut him throat."
"Stab him inna him neck."
"You have a knife?"
"Me nuh have no knife."
"You have a gun?
"Me nuh have no gun."
"How unu a par wid the Worl' Boss and nuh have nutten?"
"You nuh haffi swing it so hard and mek it ketch me."
"Weh Wee deh? Me want him see wha a go gwaan, is him a go die anyhow him keep up any likkle f…..y again. Weh Wee? Weh Wee?"
The prosecution also tendered into evidence more voice notes and snapshots taken by Linton from the video recording.
"Yeah, but problem child, if dem cut weh dem a go cut go? a dat a di r…s question. Hombre, dem man deh caayn cut, but if dem ever, a Shawn Storm a go buy dem back," one voice note said.
"Me a wait pan di (expletive) dem fi link me back and see wha dem a do if dem know a dem a go get (expletive)," another said.
The snapshots taken from the video showed a man inside a room with the words PH barely visible on his shirt, but in another photograph Vybz Kartel is seen posing beside a Toyota Lexus sport utility vehicle with a shirt with the word TRIUMPH emblazoned on the chest.
The trial is expected to continue today and defence attorneys will get the chance to cross-examine Linton.