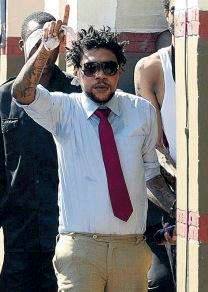 'Lizard' said he was nervous, shaking as he headed to Kartel's house
Paul Henry
Wednesday, January 15, 2014
Print this page Email A Friend!
A text message, believed to be the last sent by Clive 'Lizard' Williams, was yesterday read for jurors in the murder trial of entertainer Vybz Kartel and his four co-accused in the Home Circuit Court.
The text to his girlfriend Onika Jackson was sent at 7:37 pm on August 16, 2011, while Williams was believed to be in a motor car heading to Havendale in St Andrew where he is believed to have been beaten to death over the disappearance of an illegal gun.
"Baby im shaking so badly im nervous jeff jus catch mi on my phone but i don't care he is going to pin me," read the text.
The text concluded 20-minute span of texts between Williams and Jackson on that day. In the texts, which were read for jurors on Monday, Williams begged Jackson to call the police and call Nadine. He said in the texts that Vybz Kartel was going to kill him and that he was scared.
On Monday, the court was concluded with jurors being read a text from Williams to Jackson that was sent at 7:20 pm on August 16, 2011. "Tell Nadine don't stop please call every min," read the text.
Yesterday, Jackson's text, in response to that text which came at 7:26, read: "Ok baby i cant concentrate rite now jus be cool and talk to g normal im trying to get Nadine phone no ansa gonna call babesha."
"Please hurry mi soon reach babes," Williams responded at 7:28 pm.
Vybz Kartel, whose given name is Adidja Palmer; Shaw 'Shawn Storm' Campbell; Shane Williams; Andre St John; and Kahira Jones have been on trial before Justice Lennox Campbell since last November for Williams' murder. All the men belong to the 'Gaza Empire' based in Waterford, Portmore, St Catherine.
Yesterday, text messages believed to be from Campbell's number, in relation to the matter, was presented to the panel of 12 jurors.
"U hear that Lizard had run away," read the text from the number which was said to be that of Campbell's.
Three days earlier, at 7:56 am, Campbell texted "a 844-5320; Boy Browns tief dem". He then texted the same number within the minute: "And run weh."
On August 18, at 8:24 pm Campbell texted "a 478-1811″; no, dem nuh ded. Mi hear seh run weh and deh a water house." A minute later, he texted the same number: "A dat mi hear fr day." Then two minutes later: "Ye. But mi waaan know wah dem run weh fa if dem nuh do anything."
The prosecution also presented to jurors a list of calls involving Kartel, Campbell, Williams and the prosecution's main witness, whose name the Jamaica Observer is withholding on a previous request from the prosecution. The calls are between August 14 and 16.