Alibaba Group Holding Ltd. has again been labeled a haven for knockoffs with an embarrassing return to a U.S. blacklist for fakes just four years after getting its name removed.
The U.S. Office of the Trade Representative on Wednesday restored Alibaba's Taobao to its lineup of "Notorious Markets," citing an unacceptably high level of reported counterfeiting and piracy. The Hangzhou-based company said it was disappointed in the decision.
While Alibaba has argued it's doing all it can to combat fakes, Asia's biggest Internet company now finds itself on the same list as torrent website Pirate Bay and flea markets in Brazil and Nigeria. The decision damages Alibaba's credibility in the U.S., where its shares trade and it's trying to cultivate relationships with retailers, brands and entertainment companies.
"It's more political than anything else," said Billy Leung, an analyst at Haitong International Securities Co. in Hong Kong. "When people buy on Alibaba it's not because they intend to buy into a good quality supply, they know what Taobao is."
Shares of Alibaba fell 0.7 percent to $89.25 in New York on Wednesday.
Gadfly: Stop the crocodile tears and get real on fakes
The U.S. agency warned last December that Alibaba needed to do better if it wished to avoid the designation, reserved for websites and markets where there's large-scale copyright infringement.
In October, Alibaba said it had tightened policies against copyright infringement and made it easier for brands to request fakes be removed. It took down 380 million product listings and closed about 180,000 stores on its Taobao platform in the 12 months to August, the company said in a letter to the USTR.
Exclusive insights on technology around the world.
Get Fully Charged, from Bloomberg Technology.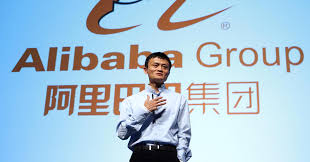 Alibaba suggested its new designation could have been influenced by politics. President-elect Donald Trump has been critical of U.S.-China trade agreements, threatening to rip them up and impose high tariffs on Chinese imports. Over the weekend, he accused China of stealing an underwater drone from the U.S. Navy in an "unprecedented act." China's state-run English-language newspaper, China Daily, warned Monday that Trump's inexperience in diplomacy might lead to confrontations between the two nations.
"Our results speak for themselves," Alibaba President Mike Evans said in a statement. "Unfortunately, the USTR's decision leads us to question whether the USTR acted based on the actual facts or was influenced by the current political climate."
Still, investors have grown more skeptical about Alibaba's ability to expand in the U.S. since its record-breaking 2014 initial public offering. As the company controlled by Jack Ma, China's richest man, seeks to bring in more than half its revenue from overseas, winning the trust of foreign brands will be key to expansion.
"While recent steps set positive expectations for the future, current levels of reported counterfeiting and piracy are unacceptably high," the USTR said in its report. "Not only do counterfeit and pirated goods pose a grave economic threat to U.S. creative and innovative industries," they undermine the Chinese and global market for legitimate U.S. products.
Alibaba makes money from Taobao through advertising, with third-party merchants posting products for sale such as toys, food and medical equipment. Since those goods aren't in Alibaba's possession, independent verification can be difficult.
In 2015, Alibaba appointed former Apple Inc. cybercrime and counterfeits investigator Matthew Bassiur to oversee its international efforts to combat piracy.
The USTR's action compounds Alibaba's woes in the world's largest economy after the company revealed in May that it's under investigation from the U.S. Securities and Exchange Commission for its accounting practices.