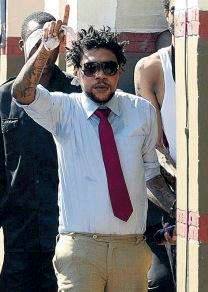 Yellow tape, crime scene, Shane Williams & his mother – #KartelMurderTrial
Posted on February 6, 2014 by emilycrooks
Deputy Superintendent of Police, DSP Vernal Thompson attached to St. Andrew North – continues his examination in chief. His evidence is marshaled by lead prosecutor, Jeremy Taylor
Here are my verbatim notes of the evidence in the Kartel and other murder trial.
——
10th of Nov, 2011 – I was informed that the accused Shane Williams was taken into custody at Constant Spring police lock up. He was taken from Denham Town Police lock up. I made arrangement with Shane Williams' mother who was present at my office at the time for an interview with an attorney of his choice. And she told me something. On same day I received a recorded statement
(Rogers and Defence attorneys speak now to Taylor in hushed tones – I am too far away to hear )
A copy of a CD and a government forensic receipt regarding exam carried out by Detective Constable Avril Thomas of Major Investigation Taskforce Crime scene unit shown to the witness.
Nov 14, 2011 – Attorney Mr Christian Tavares Finson (the younger Finson -* this elicited a chuckle from the court*) attended my office for Q&A with St. John. Time was requested privately and granted for the attorney to speak with the accused. After about 10 mins I was invited back into my office where I cautioned the accused St. John.
I told him I was investigating the murder and disposal of body of Clive Lloyd Williams otherwise called Lizard. I showed him ruled sheet of foolscap paper with nothing written on it. I caused words of caution to be written and invited him to sign. I asked Mr. St. John a total of 47 questions. He answered about 2 regarding his name and biological data – I cannot remember at this time the question regarding biological data.
The DSP now identified the accused Andre St. John who stands in the dock.
The questions and answers were read back to the accused and he was told he could add, alter or correct anything he wished and he never did. I continued my investigation.
Dec 7, 2011 sometime in the afternoon – attorney Christine Bernard attended the station to facilitate Q&A with the accused Shane Williams. I cautioned the accused and told him about my investigation of the murder and disposal of body of Clive Lloyd Williams otherwise called Lizard.
Shane Williams is not identified. He stands in the dock.
Dec 8, 2012 – I received medical from Andrews hospital on injury received by Adija Palmer.
Dec 9, 2011- was informed of identification parade result regarding Andre St. John and I was told something. In consequence of this, on advice of DPP,I informed Mr. St. John and Shane Williams that were going to charged with the murder and disposal of the body Clive Lloyd Williams. I charged then for same. I cautioned them and they made no statement
April 23, 2012 – I received a forensic report from the government lab regarding crime scene investigation by Avril Thomas and a team of forensic experts.
Some time during investigation I also rec'd copy of registered land title for premises at 7 Swallowfield Ave situated at South West of Swallowfield and. Burbank Avenue in. Havendale. Title has registration number 1648436 and was registered on April 26, 2010 as being transferred to Adija Assim Palmer , Adija Jaheem Palmer and Akeel Raheem Palmer as Joint tenants.
I asked Shane Williams about 44 questions and he answered about 6 regarding biological data
Questions were read back by his attorney. He never altered any.
Taylor – Aug 22, 2011 you say was when you first went to the house. You said the rooms appeared disorderly and ransacked. What do you mean
A- I saw clothing like shoes mostly of the Clarke's brand. (*in my head now -'everybody haffi ask weh me get me Clarke's*)
Q- you said you'd put caution tape. What is that
A- yellow tape or crime scene tape.
Q- when you went back to house you said you discovered it was burnt
A- caution tape was burst up and thrown on the ground. Large section of the tape was quail. (Officer attempts to spell quail here – wrong spelling came out)
Q- you said you placed caution tape after forensic and crime scene had been there
A- the tape was no longer there. It was pulled from the post. The burning of the houses occurred before demolition of premises
On 27th of August when I went there it was because of the fire
Demolition was sept 30. 2011
Q-Went to house 24 and 25 August and on the basis of what you saw you called forensics
A- I received addition information on the scene and observed a spot in the living room at the right door jam resembling blood stains
Forensics
I received a copy of a missing person form with mug shot of alleged deceased – passport looking size photo of Lizard marked A for identity by the court
http://thecrooksofthematter.wordpress.com/