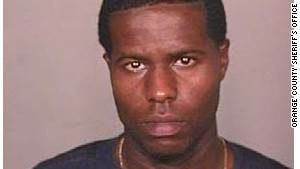 2 convicted murderers mistakenly freed from Florida prison
By Kevin Conlon, CNN
Erroneous paperwork allowed two convicted murdered to leave Florida prison, official says
(CNN) — The state of Florida is asking for help in locating two former prison inmates that they realized should still be current inmates.
Walker and Jenkins — both convicted murderers — separately walked out of the Franklin Correctional Institution located on Florida's panhandle "in accordance with Department of Corrections policy and procedure," according to Department of Corrections Secretary Michael Crews.
"However, both of their releases were based on fraudulent modifications that had been made to court orders," he said.
Authorities would not elaborate. Law enforcement learned of the situation Tuesday.
Walker, who was freed October 8, and Jenkins, freed on September 27, are former residents of Orlando, and the Orange County Sheriff's Office worries that at least one of them, but perhaps both of them, may have returned.
"They committed violent crimes," Capt. Angelo Nieves told CNN. "The best thing for them to do is to turn themselves in."
Gretl Plessinger, spokeswoman for the Florida Department of Law Enforcement, confirms they are assisting in the manhunt and investigating the escape. She wouldn't comment further.
Jenkins was serving a 50-year sentence in a 1998 murder and armed robbery and got an extra five years for a 1997 auto theft. He had been incarcerated since 2000. Walker was serving a 15-year sentence for a 1999 murder and had been in custody since 2001.
While Nieves and other law enforcement search for the inmates, Crews says he'll be conducting a "vigorous and thorough review" of other such prison releases to make sure there aren't others out there who shouldn't be.