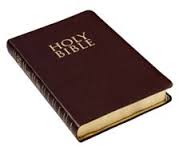 A David Psalm
25 1-2 My head is high, God, held high;
I'm looking to you, God;
No hangdog skulking for me.
3 I've thrown in my lot with you;
You won't embarrass me, will you?
Or let my enemies get the best of me?
Don't embarrass any of us
Who went out on a limb for you.
It's the traitors who should be humiliated.
4 Show me how you work, God;
School me in your ways.
5 Take me by the hand;
Lead me down the path of truth.
You are my Savior, aren't you?
6 Mark the milestones of your mercy and love, God;
Rebuild the ancient landmarks!
7 Forget that I sowed wild oats;
Mark me with your sign of love.
Plan only the best for me, God!
8 God is fair and just;
He corrects the misdirected,
Sends them in the right direction.
9 He gives the rejects his hand,
And leads them step-by-step.
10 From now on every road you travel
Will take you to God.
Follow the Covenant signs;
Read the charted directions.
11 Keep up your reputation, God;
Forgive my bad life;
It's been a very bad life.
12 My question: What are God-worshipers like?
Your answer: Arrows aimed at God's bull's-eye.
13 They settle down in a promising place;
Their kids inherit a prosperous farm.
14 God-friendship is for God-worshipers;
They are the ones he confides in.
15 If I keep my eyes on God,
I won't trip over my own feet.
16 Look at me and help me!
I'm all alone and in big trouble.
17 My heart and kidneys are fighting each other;
Call a truce to this civil war.
18 Take a hard look at my life of hard labor,
Then lift this ton of sin.
19 Do you see how many people
Have it in for me?
How viciously they hate me?
20 Keep watch over me and keep me out of trouble;
Don't let me down when I run to you.
21 Use all your skill to put me together;
I wait to see your finished product.
22 God, give your people a break
From this run of bad luck.