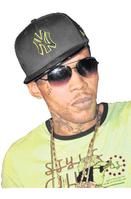 Murder victim in Kartel case was charged with shooting with intent
Thursday, November 21, 2013 | 11:56 AM
Print this page Email A Friend!
KINGSTON, Jamaica — The sister of murder victim Clive 'Lizard' Williams Thursday morning continued to give evidence in the trial of Vybz Kartel and four co-accused in the Supreme Court.
Under cross examination from defence attorney Tom Tavares-Finson the emotional witness admitted that her brother had been charged with illegal possession of a firearm and shooting with intent.
Attorney Miguel Lorne also questioned the witness as to whether Sean Storm and her brother were close friends and if he appeared in music videos of Kartel's songs.
After a few more questions from Lorne the witness broke down in tears. Lorne then showed compassion.
"I will ask you no more questions," he said.