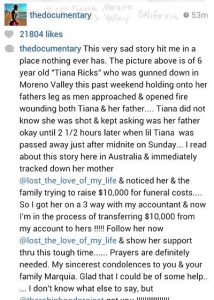 MORENO VALLEY (CBSLA.com) — Authorities are looking for two gunmen who reportedly injured a man and killed his 6-year-old daughter at a party Saturday night.
The incident occurred at around 9:30 p.m. Saturday at a home in the 25000 block of Harker Lane.
Tyler Dupree Ricks, 26, and his daughter Tiana had just arrived at a relative's home for a going-away party. They were in the driveway when relatives say two men got out of a black car and exchanged words with Ricks. They opened fire on Ricks and his daughter in front of the home's garage.
"Some individuals approached them, and they started shooting or whatever, and they all ran into the garage," neighbor Damon Cook told CBS2/KCAL9 reporter Art Barron. "You don't fire a weapon with children outside…I don't understand why people do some of the things they do."
Ricks and his daughter were taken to the hospital, where Tiana succumbed to her injuries early Sunday. He suffered a gunshot wound to the pelvis and was listed in stable condition.
Ricks is no stranger to tragedy; In April, he lost the mother of his 1-year-old child in a traffic accident.
Relatives say they don't understand what prompted the shooting. They're still struggling to accept that Tiana is no longer with them.
"They killed my Titi…I can't hold her, I can't hug her," Tiana's great-grandmother Claudia Ricks said, while sobbing. "I asked the Lord, 'Take me, don't take her.'"
Ricks' death is being investigated as a murder. Anyone with information about the shooting was urged to call Investigator Baeza of the Riverside Sheriff's Central Homicide Unit at (951) 955-2777, or Detective Holland of the Moreno Valley Police Department at (951) 486-6700.