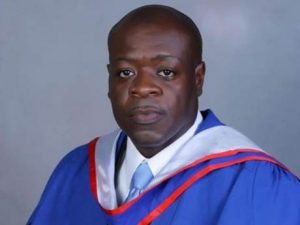 PASSLEY GARDENS, Portland — Forty-four-year-old Cyprian Moncrieffe, a senior lecturer at the College of Agriculture, Science and Education (CASE), was found dead at his flat here yesterday morning, hours after he was reported missing by relatives.
Moncrieffe's partially decomposed body was discovered by police and relatives, who forced open the door to the house after seeing swarms of flies in the vicinity.
He was last seen on the CASE campus on Friday. His 2013 Honda CRV, which is normally parked outside his flat, was noticeably missing, which raised suspicion among his colleagues. Calls made to his cellular phone went unanswered.
His body was found lying face down on a pillow with two knives lodged in the back of his head. Electrical appliances were also reportedly taken from his house.
Moncrieffe, who lived alone, was responsible for overseeing practicum at the college and was scheduled to have a meeting yesterday morning.
His death has sent shockwaves throughout the school community.
The Portland police are investigating.