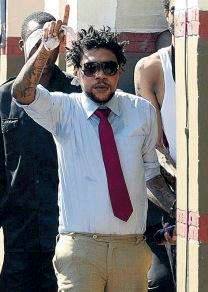 VYBZ KARTEL TRIAL: Palmer's lawyer says prosecution's case 'naked and exposed'
The lawyer for accused murderer Adidja 'Vybz Kartel' Palmer has told a Home Circuit Court jury that the defense has left the State's case against his client naked and exposed as a conspiratorial lie.
Tom Tavares-Finson made the comment while making his closing arguments to the 11-member jury in the murder case involving Kartel and his four co-accused.
The defense closed its case this morning, paving the way for addresses to be made to the jury.
Tavares-Finson told the jury that the prosecution, in trying to prove its case, brought a number of witnesses masquerading in robes of the Constitution and in the authoritative robe of the Director of Public Prosecution.
He said the prosecution had said their witnesses would have been ones of truth and bring evidence to convince them of the role of the accused in the case.
However, the lawyer said through cross-examination, the defense has ripped the robes to threads, leaving the prosecution's case naked and exposed as a conspiratorial lie.
Tavares-Finson said the prosecution's case has also been left dressed in incompetence.
He pointed to the missing original copy of the main witness' statement to the police and a compact disc containing original evidence.
He also highlighted the notebook lost by Senior Superintendent of police Cornwall 'Bigga' Ford.
He told the jurors that they have been left to judge a case tampered and discredited by the prosecution's dishonesty and incompetence.
This morning, Tavares-Finson complained that the defense was served with some documents overnight.
One of the documents was a report from handwriting experts William Smiley and George Dixon.
The lawyer said the defense was not told about the second expert and that it was a serious breach of the protocol of disclosure and prosecutorial misconduct.
He asked the presiding judge, Justice Lennox Campbell to sanction the prosecution.
The Crown is alleging that Kartel, whose real name is Adidja Palmer; entertainer Shawn Campbell, popularly known as Shawn Storm; André St John; Shane Williams; and Kahira Jones, murdered Clive 'Lizard' Williams on August 16, 2011.
All the defendants have given unsworn testimony declaring their innocence.