TEEN BOYS SLASH MAN'S THROAT ON BUS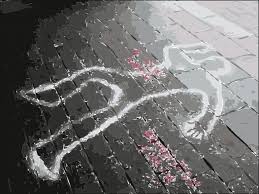 A group of teenagers are being sought in relation to the gruesome killing of a man who was stabbed in the throat while on a Coaster bus loaded with passengers in Stony Hill square, St Andrew, on Wednesday.
Information reaching THE WEEKEND STAR is that the act may have been one of reprisal, as the deceased, 20-year-old Jamie Palmer of a Barbican, St Andrew, address, was implicated in a stabbing incident weeks prior to this latest attack.
It is understood that the incident may be stemming from a gang feud involving students from different schools.
Our news team gathered that Wednesday's attack occurred in full view of passengers who were on the Coaster bus, some of whom were traumatised following the incident.
An eyewitness told THE WEEKEND STAR that, "People had blood on their clothes when they ran out of the bus. The young man couldn't mek it pass the step of the bus. He held on to his throat trying to make his way out the bus and fell forward and bleed out. A man came with a 'kerchief' and tried to stop the bleeding, but it was too much blood."
quite familiar
A man, who was in the vicinity when the incident occurred, claimed that the attackers and the slain young man are quite familiar with each other.
"The whole a dem a some juvenile weh a go school and know dem one another. Dem nuh older than 15 or 16," he said.
Reports from the Constant Spring police are that about 3:50 p.m., Palmer was a passenger on a Toyota Coaster bus when on reaching a section of the roadway, six men boarded the bus, attacked him and stabbed him several times in the neck.
A senior officer close to the investigation told THE WEEKEND STAR that investigators hope to make a breakthrough soon, and that the police have begun collecting statements regarding the involvement of the teens.