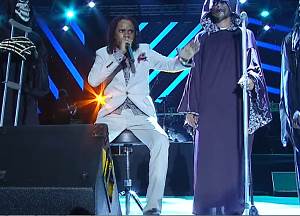 Tommy Lee hospitalised in Dominica, due to be deported later Monday
Monday, February 24, 2014 | 5:30 PM
Print this page Email A Friend!
ROSEAU, Dominica (CMC) – Jamaican dancehall artiste, Tommy Lee Sparta, was undergoing medical treatment at a hospital in Marigot, in Dominica, prior to being deported later on Monday, his lawyer, Tehani Behanzin has said.
Behanzin told reporters that the singer, who was denied entry when he arrived on Sunday night to perform in a show in Portsmouth, had been taken to the hospital after feeling unwell.
Police detained the singer and two other members of his group when they arrived on a private jet. Neither the Dominica government nor the immigration department has issued a statement on the matter.
Behanzin, who accompanied the singer to hospital, said that on arrival "everybody was escorted out and they locked down the hospital. The windows were closed, the doors were closed and they had him in there for an hour and a bit.
"We are waiting to see what happens. He has been complaining of pain in his leg, because he has some kind of metal in his leg because of an accident some years ago and he was made to sleep on the cold concrete last night.
'We tried our best to negotiate some cardboard for him to sleep on but that wasn't very successful and the cold has affected his legs and now he is …suffering from muscle spasm and blood clotting in the legs".
Behanzin said that the deportation issue would not be challenged here, but that the matter could go before the Trinidad-based Caribbean Court of Justice (CCJ) that last year ruled Barbados had been in violation of the rights of a Jamaican woman when it denied her entry into that island in defiance of the Caribbean Community (CARICOM) Single Market and Economy (CSME) that allows for the free movement of goods, services, labour and skills.
"They are going to deport him, I think this afternoon, we are not going to fight the deportation. We will proceed to the other aspects of our legal challenge to this unlawful act of the police," he said, adding, "these are treaty rights that he was simply attending to express here and he was stopped and considered to be a national risk.
"That will be determined at the CCJ," he said, adding that another constitutional motion would be filed at the High Court.
In a statement posted on his Facebook page, Sparta said he is a CARICOM citizen and questioned the move by the Dominican immigration authorities.
"So them don't respect Jamaicans? What them a deal wid? Sparta a go protest right about now!," he wrote.
The Dominica Association of Evangelical Churches (DAEC) has been calling for a boycott of the concert featuring Sparta, whom it claims glorifies Satan during his performances.
A spokesman for the group, Bishop Michael Daniel, speaking on the state-owned DBS radio Monday, said he was pleased that the concert did not occur as had been planned.
He said while the churches played no role in the detention of Sparta, their prayers had been answered.