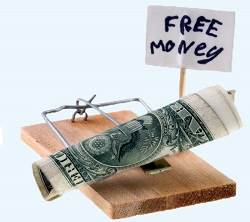 Two Florida Residents Arrested in Connection with International Lottery Scam
Two individuals charged in connection with the operation of a fraudulent lottery scheme were arrested today in south Florida following their indictment by a federal grand jury in Miami on Oct. 31, 2013, the Justice Department, U.S. Postal Inspection Service, U.S. Immigration and Customs Enforcement's Homeland Security Investigations (HSI) and the U.S. Marshals Service announced. Althea Angela Peart and Charmaine Anne King were arrested on charges that they and their co-conspirators, some of whom operated from outside of the U.S., participated in a fraudulent lottery scheme. As alleged in the indictment, co-conspirators induced elderly victims in the U.S. to send thousands of dollars to Peart and King to cover fees for lottery winnings that victims had not won. The indictment, unsealed with Peart's and King's arrests, is part of the government's crackdown on fraudulent international lottery schemes.
"Operators of foreign lottery schemes often cannot succeed without the assistance of co-conspirators in the United States," said Stuart F. Delery, Assistant Attorney General for the Justice Department's Civil Division. "These schemes can cause devastating financial harm to their victims, and the Department of Justice is committed to prosecuting those who engage in this criminal activity."
From March 2012, Peart's and King's co-conspirators are alleged to have contacted victims in the U.S. and falsely informed them that they had won more than a million dollars in a lottery. According to the indictment, the co-conspirators sent letters to the victims from a purported sweepstakes company in the U.S. and included false and fraudulent cashier's checks made out to the victims for thousands of dollars. As alleged in the indictment, these letters told victims to call "claims agents" who were actually co-conspirators, and when the victims called the purported claims agents, the agents informed the victims that they had to pay several thousand dollars in order to collect their purported lottery winnings. The claims agents allegedly told the victims to deposit the cashier's checks in the victims' bank accounts in order to purportedly cover the money they had to pay. The co-conspirators allegedly instructed the victims on how to send and wire this money to Peart and King.
The indictment charges that Peart and King each kept a percentage of the money they received from victims and sent the rest of the money to their co-conspirators. According to the indictment, because the cashier's checks were false and fraudulent and had no value, any payments the victims sent to Peart and King were funded by their own money, and victims never received any lottery winnings.
"As fraudsters from outside of the United States seek to take advantage of some of the most vulnerable in our community, they rely on co-conspirators in the United States for help," said U.S. Attorney for the Southern District of Florida Wifredo A. Ferrer. "As I have previously stated, we will continue to vigorously pursue and prosecute those responsible for these illegal schemes."
Peart is charged with conspiracy, eight counts of mail fraud and three counts of wire fraud and with committing these offenses via telemarketing. King is charged with conspiracy, four counts of mail fraud and three counts of wire fraud and with committing these offenses via telemarketing.
"The U.S. Postal Inspection Service is committed to investigating fraudulent lottery schemes designed to defraud innocent victims," said U.S. Postal Inspector in Charge in Miami Ronald Verrochio. "Combating international lottery fraud is a priority of the Postal Inspection Service given that a significant amount of the money in these frauds is sent through the U.S. mail. We are actively taking steps to educate Americans about the dangers of lottery frauds."
"These arrests show that HSI is committed to stopping individuals who prey on our senior citizens," said Special Agent in Charge of HSI Miami Alysa D. Erichs. "We will continue to work with our international partners and other law enforcement agencies to put an end to these criminal organizations."
"The U.S. Marshals Service is proud to be part of the team bringing scam artists such as these to justice," said Acting U.S. Marshal Neil DeSousa. "These international lottery scams that prey on our elderly cannot be allowed to continue. The arrests of these two perpetrators are a testament to federal law enforcement's dedication to protecting our citizens against all types of crimes."
Assistant Attorney General Delery and U.S. Attorney Ferrer commended the investigative efforts of the U.S. Postal Inspection Service, Homeland Security Investigations and the U.S. Marshals Service. The case is being prosecuted by Assistant Director Jeffrey Steger and Trial Attorney Kathryn Drenning with the Department of Justice's Civil Division, Consumer Protection Branch.
An indictment is merely an allegation, and every defendant is presumed innocent until proven guilty beyond a reasonable doubt.