All Action Bolt Wins Sixth AOY Award – Ethiopia's Ayana Takes Female Prize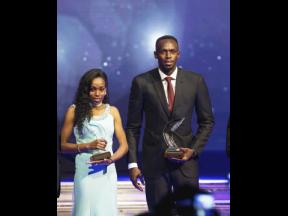 He's all about action.
In fact, track and field's biggest showman sees a bit of Hollywood tough guy Jason Statham, in himself, and as he capped another all-conquering season with a record sixth IAAF Male Athlete of the Year (AOY) award, Usain Bolt showed whether the stage is a track or an actual stage, he is just as entertaining.
Ethiopia's Almaz Ayana won the female Athlete of the Year award after a season that saw her winning Olympic gold in the 10,000m in a world record 29:17.45 to erase a 23-year-old mark, and bronze, plus the Diamond Race title in the 5000m.
With next year's farewell season looking more and more like one of Marvel's after-credit scenes, Bolt's triple gold-medal haul at the Olympic Games in Rio and last night's AOY nod at the Salle des Etoiles could be considered the perfect ending to his last full season, his latest in what has been a medal and record-filled career.
"I would definitely be a great action guy," Bolt laughed when asked by the presenter if his new I am Bolt film meant a career in front of the lenses after he retires. "The next Jason Bourne. More like Jason Statham, I'm not a Bond type of guy. He is too slick."
It was a light tone in a rebranded and restyled IAAF Athletics Awards, which brought a departure from the heavy note of reform after a year of chaos, which have hung over the IAAF's most important weekend in recent times.
The exchange was one of the moments that exemplifies the sport's biggest personality, one whose box office pull will no doubt, leave a void.
Bolt, who told The Gleaner that he will be paying close attention to see who takes over the 'poster boy' tag once he exits stage left, also paid homage to fellow male AOY finalists Wayde van Niekerk, who won Olympic 400m in a blistering 43.03 world record, and Mo Farah, the Olympic 10,000m and 5,000m champion.
"This award is very important to me. The fact it was voted on by the fans is very special. I have worked hard over the years to accomplish big things, so, for me, it's a great feeling," said Bolt, who was sporting a smart dark suit, burgundy tie and brown shoes. "You always have to respect all the nominees, they have proven that they are great in their own respect, in their own fields.
"It's a great feeling. I have proven to the world that I am one of my the best athletes in the world. It's a great thing to accomplish and to end the season in a bang. I feel good about that," Bolt added.
Feeling Ambivalent
Van Niekerk admitted to feeling ambivalent about the experience, accepting that it's the beginning of the end for an athlete who he has looked up to while being motivated to push even harder in the future.
"It's sad seeing an amazing athlete like Bolt being on the verge of retiring, someone who I have found so much inspiration and motivation from, but, at the same time, it has given me so much confidence to go out there and put myself forward and be the future," van Niekerk told The Gleaner.
Bolt's other AOY awards were presented in 2008, 2009, 2011, 2012 and 2013.
Elaine Thompson, who was many person's favourite going into the evening after her 100m and 200m double at the Olympics, was looking to become the third Jamaican to win the female AOY award after Merlene Ottey in 1990 and Shelly-Ann Fraser-Pryce (2013), but was nonetheless pleased to have been considered. Vowed to make a return to the ceremony.
"I have to give God thanks for a wonderful season. To be nominated for the IAAF female Athlete of the Year award is a great honour and even though I didn't win tonight, I am happy for the season. I am happy for Almaz, I congratulated her on her season and I hope she will continue to do great, and I will continue to work hard," Thompson said.
Thompson also helped Jamaica to its 4x100m silver in Rio, win bronze at the IAAF World Indoor Championships, and went unbeaten in the 100m.
Poland's Olympic champion and world record holder in the hammer throw, Anita Wlodarczyk, was the other finalist.
Harry Marra, who coaches Olympic decathlon champion and world record holder Ashton Eaton and wife Brianne Theisen-Eaton – Olympic bronze medal winner in the heptathlon, was presented with the Coaching Achievement award.
Canadian sprinter Andre De Grasse, 200m silver and 100m bronze medallist from Rio, and Belgian heptathlete Nafissatou Thiam were the male and female Rising Star recipients.
Tegla Loroupe won the inaugural President's Award for her work in the creation of the first Refugee Olympic team, with Greece's Polyxeni Argeitaki receiving the Women in Athletics award for her efforts towards developing and encouraging greater female participation in the sport.