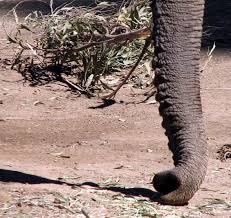 14 Chinese workers arrested in Gabon over elephant trunk breakfast
Posted by Kevin Heath posted on September 27th, 2013 at 8: 17 am and last updated on September 27th, 2013 at 8: 17 am
African Forest Elephant
14 Chinese forestry workers about to eat a roasted elephant trunk breakfast have been arrested by Gabonese wildlife rangers.
Wildlife rangers in Gabon raided a Chinese sawmill on Wednesday to the south-west of the Minkebe National Park and arrested 14 workers for wildlife offenses. The raid was conducted following a tip-off from a security guards and the Chinese were arrested as they ate breakfast – roasted elephant trunk.
The security guard alerted authorities after he saw elephant skins being hung out to dry at the sawmill. The raid also unearthed a range of wildlife products including unworked ivory, carved ivory chop-sticks and pangolin scales.
The raid took place at a forestry camp near Makokou in northeast Gabon which is just to the south-west of the Minkebe National Park. A report earlier this year highlighted that the vast rainforest national park had lost 11,000 of its forest elephants since 2004.
Despite regular protestations from the Chinese government that their overseas workers do not take part in wildlife crime, it is becoming a common problem now that as Chinese companies become more established in the development of Africa so the wildlife suffers as the workers help themselves to the local wildlife.