She's a blackmailer, fetish, man tells court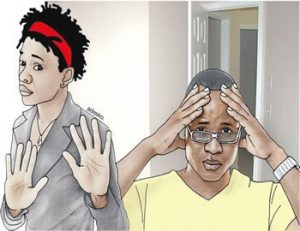 "My wife is diabolical, dishonest, guilty of infidelity, and a blackmailer. I want our marriage dissolved."
This are the words of 40-year-old Mutador Alade Monsuru, before the Lagelu Grade C Customary Court sitting at Iyana Offa, Oyo State.
Mutador had approached the court to dissolve the 11-year-old union between him and his wife, Bukola Mutador citing, infidelity, dishonesty, blackmailing and her diabolical nature as grounds for seeking divorce.
The resident of Olosan in Alakia area of Ibadan, prayed the court to dissolve his marriage because he is tired of living with a woman who is not straightforward and uses juju to control him
He alleged that Bukola wants to kill him and he had to leave home and start sleeping in the office out of fear for his life.
"I left home and has been sleeping in my place of work, I have caught her several times with another man and I have heard series of reports from our neighbours before I caught her myself," Mutador stated
Mutador said he noticed that whenever she commited adultery she went straight to the bathroom to take Islamic bath (Janaber) and he had once caught her in the bathroom performing rituals using palm oil and solid pap (eko)
"I have reported her to her parents on many occasions especially on the issue of infidelity and her diabolical nature. Her father told me if I'm not contented with her, I should go for the dissolution of marriage, «he said.
"I set her up and recorded all her conversations with her man friend,
I played it for her and when she realised I had caught her, she threw the phone in the sanitary tank, but neigbours helped me to retrieve it."
Mutador played the phone conversation to the hearing of the court to prove his allegations.
In her defence, Bukola, denied the allegations before the court, adding that she was not adulterous.
She told the court her father is a butcher and a herbalist but that she only applied fetish stuff on the children to ensure their progress.
She pleaded with the court to grant her custody of their children in case it dissolved their union
In his judgment, the court president, Mr.Ogungbenle, said the court had tried everything within its power to ensure the couple changed their decision on divorce, but they are tired of each other and the court will not force them to stay together and harm each other.
Ogungbenle, therefore, dissolved the union and ordered the plaintiff to provide accommodation for the dependant for a period of three months at the worth of N1, 500 per month and also give her N5, 000 to pack her belongings out of his house.
According to him, the children must attend government hospital and schools while the defendant must bring receipts of expenses to the court.
He granted custody of the first two children to the plaintiff and the last two to the defendant.
The plaintiff, he said should pay N3,000 monthly as feeding allowance for the two children.