Galis wife,matey and babymothers mix up, one man have 7 personal women and 3 babies on the way
Gareth Gal-Farm is a womanizer and user he preys on women, manipulate, treats them bad and uses them to his convenience and when he's done he moves on to other women. He will have at hand 10 women at a time. He has 4 baby mothers of which 2 has not given both yet, one with twins. He has no respect for women, even discuss women he with with other women. Facebook is his number one source of attracting women, he gathers them for his Jamaica visit and then when him done he returns to USA and cuts off everyone.
#2 wifey – Natalia now pregnant with Twins, dating 2 years lives in New York, personal accountant and business partner, stepdad to her 2 kids, father to her unborn twins.
#3 Wifey – Michie Johnson now pregnant with son, dating nuff years loose count live in Jamaica
#4 Matey #1 – Donieka Shorty James, dating nuff years loose count, lives in Jamaica, dem seh shi bad give nuff bun, love foreign man

#5 Matey #2 – Samantha Sammyjoe Carridice, dating confusing and anonymous, she's a lesbian and had his name tattooed on her arm very big dwl, she cover it now cause she confused, she seh nothing serious now dem just f*** occasionally and run 3 some wid har bitches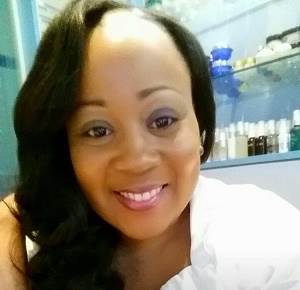 #6 Matey #3 – Chevinese Burke "works at (Edited)" on and off relationship, f**k and suck each other occasionally, shi get big tip
#7 Matey #4 – Laccy Rainbow Sweetness, dating 4 years lives in New York, shi confused but shi seh shi love the tongue
Nuff more gal out deh but dem no have no position them of no importance just f**a gal dem sad to say so a waste a time fi post dem picture…
Ladies be careful , be very careful he is a charmer and will do anything to get in your underwear, just a 1 f**k him a look but if u have resources or if yuh a put inn work, him will use u, or if yuh f***k good him may keep u and dem seh him suck **** realllllllll good, him will suck weh man gal 😂😂😂😂👏🏼👏🏼👏🏼👏🏼👏🏼 all mi can seh a nuff ***y juice inna fi him belly 😂😂😂😂 good source of vitamin C I guess….no man nahhhh f** wid me and get weh wid it we even now p**y!!!!! KARMA is a Bitch have a wonderful life child maintenance ago kill u, yuh pocket ago bun yuh, fi a big duty Man U loose….41 years old u need a life and u need fi have respect fi women and dem feelings imagine yuh Married to a gal weh nuh put inn no work and shi a come reap weh others sew!!! Mi nuh know how him nuh ketch AIDS an a f**k careless so….worthless all him accomplish in life is a title "galis"