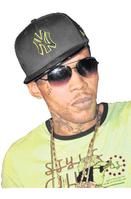 KINGSTON, Jamaica — Accused juror in the Kartel murder trial, Livingston Cain, had approached other jurors telling them to return a verdict of not guilty in relation to all the accused men.
This was revealed when Cain appeared in the Corporate Area Resident Magistrate's Court Tuesday morning.
Cain told a particular juror: "I will take care of you as long as you say weh me a say. These men are promising entertainers and uno must let them go."
The court was told that the jurors in the matter had reported the issue to the foreman before the accused man approached her with an offer of $500,000 for the release of all the men accused of the murder of Clive 'Lizard' Williams.
Cain is charged with five counts of attempting to pervert the course of justice and one count of conspiracy to pervert the course of justice.
He has been offered $750,000 bail with daily reporting conditions and is to return to court next week Friday.
Paul Henry