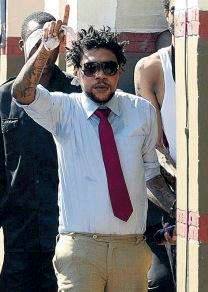 Cops accused of leaking info on Vybz Kartel arrest
BY KARYL WALKER Editor — Crime/Court Desk [email protected]
Friday, November 22, 2013
Print this page Email A Friend!
DEFENCE lawyers were scathing in their cross-examination of two senior police officers who gave evidence during the trial of Vybz Kartel and four other men in the Supreme Court in downtown, Kingston yesterday.
Attorney Tom Tavares-Finson, who along with his son Christian is representing Vybz Kartel, accused the police of leaking information to the media when the police had arrested Vybz Kartel and were taking him to his three properties in St Andrew and St Catherine to search for guns and unlawful property.
Vybz Kartel, Shawn 'Shawn Storm' Campbell; Kahira Jones; André St John; and Shane Williams are being tried for the August 16, 2011 murder of Clive 'Lizard' Williams
During his cross-examination of head of Senior Superintendent Cornwall 'Bigga' Ford — who heads the Flying Squad — Tavares-Finson suggested that the police had intentionally informed the media of the operation in order to prejudice the case against his client.
"Did you notify the press?" Tavares-Finson asked Ford.
"I had no communication with the press," Ford answered.
"So, I take it you were alarmed when Mr Palmer was being paraded around on TV in handcuffs?" the attorney added.
"Good news travel fast. I cannot speak for what the press does," Ford replied.
"Mr Ford, I am suggesting that this is part of a police conspiracy to prejudice the trial of this man Adijah Palmer," Tavares-Finson said.
He also suggested that the police had concocted a theory that a burnt-out, decomposed body was found at house on Swallowfield Avenue, which was owned by Vybz Kartel.
"Did you, Mr Ford, tell anybody that a decomposed body was found at Swallowfield Avenue?" he asked.
"No, sir, I am not authorised to speak on behalf of the police," Ford replied.
Earlier, the attorney suggested the same thing to Superintendent Winston Henderson and Detective Corporal Avrel Thomas, who also gave evidence.
Both officers denied having leaked any information to the press about the police operation or a burnt-out decomposing body.
Henderson also came under fire from attorney Miguel Lorne, who represents Shawn 'Storm' Campbell.
Lorne asked Henderson if he had arrested Calvin Haye, who was acquitted on Wednesday, and his girlfriend, before releasing them days later and then re-arresting Haye again ten days later after naming him as a person of interest, before releasing him again.
Henderson replied in the affirmative.
"Mr Henderson, you don't know what you are doing? You pick up the man, release the man, pick him up back and then the man is dismissed. You are fishing," Lorne said forcefully.
Henderson testified that armed with three search warrants — two for illegal possession of a firearm and one for illegal possession of property — he led a joint police/military team to houses a Hacienda Drive in Norbrook in St Andrew, Swallowfield Avenue in Havendale, St Andrew and Independence City in Portmore, St Catherine which were owned by Vybz Kartel.
He said he seized 14 cellular phones and placed them in a secure place in his office to which no other person has access.
He said the phones were held at the Flying Squad headquarters at Harbour Street in downtown Kingston for two months because the police wanted to display them for people who had been robbed to identify if any of the instruments belonged to them.
The phones were then handed over to the Cyber Crimes Unit, Henderson said.
Thomas, who is assigned to the Major Investigation Task Force, displayed photographs that he had taken of the house at Havendale one of which showed a red coloured stain on a door jam which resembled blood.
He said he swabbed the area and secured the sample before taking it to a mini laboratory at the MIT before it was handed over to the Government Forensic Laboratory for testing.
Evidence was also tendered by a sister of Williams, who admitted under cross-examination that her brother had been previously charged for illegal possession of a firearm and shooting with intent.
The sobbing witness also admitted, under cross-examination from Lorne, that her brother and Campbell were close friends and that he appeared in several music videos which featured Campbell's dancehall brand of music.
"You know the popular term, he wanted to buss him or make him more famous?" Lorne asked.
To which the witness replied, "Yes."
The trial continues today.