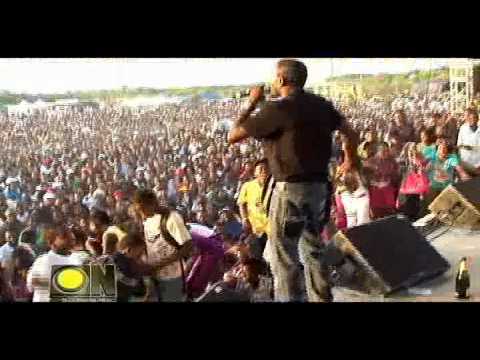 In the U.S, Marsha became restless, Mafioso was partying while she had to listen to the moans of the men who were in prison and provide money for those on their way to prison. Apart from throwing money at the crowd at Sting in December of 2010, Mafioso had blown tens of thousands of dollars at the gambling table, given a school in Waterhouse a hefty donation,however, he spent much more on the mother of his children. His ideal for these women was to own their own businesses; Mafioso had opened a cellphone business for one of the women. Another owned a clothing store while ''Wife 1'' in Jamaica and ''Wife 1''in Philadelphia U.S.A appeared to stay home and were in charge of handling his businesses.
Weeks turned into months and after Mafioso's wardrobe began to look sparse, people wondered why he hadn't yet left Jamaica. Flippa made light of the wagging tongues by naming the theme of his party ''Rewind'' encouraging people to wear the outfits they had worn previously. Flippa recorded a song about the ordeal
''Mi nuh bruck''.
Man a real bad man an mi nuh give a f***
Four months ina Jamaica dem a talk bout mi stuck
But how mi fi stuck and mi nuh bruck
Wi a kill dem me and mi X5 truck
Sonita began hearing the details about his other women via the internet and became uneasy. Twanna-Kay boasted about $39.99 Guess shoes Mafioso had bought her while she had to collect a monthly sum from Mafioso's mother. She was ridiculed and called foolish because it was said that Mafioso did not allow her to go out.Sonita was monitored from the U.S .The relationship crumbled, and after an accident involving Mafioso and a pregnant woman, he returned to the U.S by boat, via the Bahamas.
Route via the Bahamas, was Mafioso's ''link'' , where a person wanting to enter the U.S flew from Jamaica, to the Bahamas and then transported by boat to Miami , Florida . Stipulations following the accident involving the pregnant woman did not permit Mafioso to leave the island because the woman involved in the accident was in danger of miscarrying. If the baby had died he would have faced additional charges. In other words; Mafioso was free to land on U.S soil, but unable to leave Jamaica. His attempt to enter into the U.S via boat got him thrown in jail for two weeks and then extradited to Philadelphia where he was said to have spent another six months pending an unfinished trial. The Jamaica Star, a newspaper in Jamaica, named Mafioso as a witness for the prosecution against; Julio Santiesteban and Armando Amat, who were charged with, encouraging and inducing an alien to enter or reside in the United States.
Mafioso was first spotted at a baby shower in New York, then on to the Buju Banton concert in Miami. Winfred Williams, a Jamaican journalist who attended the show, asked Mafioso about his run in with the law and the outcome. Mafioso's response was that, he returned for a criminal case and it was finished, and the only thing pending was the re-entry case he has with immigration. When asked if he would return to Jamaica, Mafioso responded by saying that Jamaica was his home and he had no problems returning home but at the time Jamaica was too small for him. He went on to show the Burberry shirt he was wearing and stated that, Jamaica did not sell authentic Burberry shirts. http://youtu.be/DMMD949Mj5E
Miami, New York and Philadelphia's most influential parties were all attended by Mafioso and his clan. Mafioso was back with a bang and side-chick Hioka and a few others came onboard. This is what someone had to say about the side-chicks and the Mafia ''wives''. Mafia side-chicks pictured below


MET THESE ARE DI NEW TEKKERS IN PHILLY dem a run mafia ladies foot by storm fretdem mate and marsha mate. dem eva deh a di same party dem a dash wud pon dem oneanadda, di one pon di far right a di same Hioka girl.well di last time dem seh marsha did a bawl well fretdem did a bawl pon don don boat ride shi spend di ole night outa door while har mate have fun.di mafia ladies dem stay bad as always and teflon ooman nuh ramp fi dash a bag a wud pon dem, mi hear shi a seh dem need fi learn how fi dress bad bad bad and mi know a dem shi did a talk inna dem own party.flippa why yu dont tell yu gal dem fi tan a dem yard when yu oman a come out and kelly why yu dont tell yu fellow mafia fren dat dress is bout ten years old and sen har to school cause shi dumb like a door bell. and marsha why yu nuh tell yu sista fi stop run dung har mate body cause from di odda day shi mawga like dog like shi a run slim compitition. mi si kemar mafia and him ooman a saks and i neva see fretdem in dere yet and people mi hear seh him and har married cause him nuh stop wear up him ring inna hin picha dem. fretdem yu expire now r wah? are yu a damn fool like yu sista to unnu tek anything and stay but unnu inna video light a dash wud offa oneanodda. teflon ooman and har mate just fava suh!! dwl neka mafia from yu mate come live yah wi nuh see yu no where is what di belly start show aready? and kelly kelly kelly why yu nuh tan home? yu nuh see yu look terible? sexy shauna nu tru yu pay fi di bres dem yu affi always a show dem. marsha please retire from partying yu neva have a bright moment
Hoika, Marsha's new rival, quietly held her spot ignoring the jeers that came from Marsha's fans and stood by her friends whenever Mafioso and Marsha were out. Years before, Keisha Jaguar a side-chick, who had allowed Mafioso's money to get to her head, jeered Marsha in parties and videos. This did not turn out well .Mafioso's saw this as disrespectful and publicly disgraced. Peach, which had a radio show at the time and was a friend of Keisha's invited her on her show and was also disrespected by Mafioso. For this, Hioka remained cautious.
Women flocked to be at the parties he attended because they heard that he threw money in the crowd regularly. It was said on the streets that, one night Mafioso had intended on throwing out twenty dollar notes out but ended up throwing out hundred dollar bills in error.
Jamaicans everywhere became suspicious of Mafioso's bail claim and began to wonder why he was really allowed to stay in the U.S… Legally, he had status in the U.S because of his marriage years before however it was unbelievable that he had not spent a day in jail for the gun charge. Sources close to Flippa said that he was well represented in court.
A family home was bought in St. Andrew Jamaica and Mafioso's mother oversaw the removal of his cars from Sonita's place to his apartment. His brother Kemar, started making money and bought his mother a house a few streets over from where she lived before. Kemar flew to Jamaica in 2012 and was said to allegedly have an orgy with Beenie Man's daughter and a few of her friends.