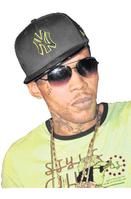 Informant brought cops to Kartel's house days after alleged murder, court told
Barbara Gayle, Justice Coordinator
Supreme Court Judge Lennox Campbell yesterday complained about the late arrival for court of one of the four men charged along with entertainer Vybz Kartel.
Accused Shane Williams, who is in custody, was about 30 minutes late and the judge said steps must be taken that he is at court before 10 a.m. each day.
Kartel, whose real name is Adidja Palmer, is charged jointly with four men for the murder of 27-year-old Clive 'Lizard' Williams. The Crown, represented by prosecutors Jeremy Taylor and Leighton Morris, is alleging at the trial in the Home Circuit Court, that Williams was murdered at Kartel's house in Havendale, St Andrew, on August 16, 2011.
Yesterday, retired Assistant Commissioner of Police Granville Gause said that on August 24, 2011, a man named Lamar Chow was brought to his office. He said he was meeting Chow for the first time.
Gause told the 12-member jury that he did not intimidate or make any promises to Chow, who related an account to him, undisturbed. After the account, Detective Corporal Stewart wrote the statement.
Gause said there were three breaks during the taking of the statement, and one of them was for everyone to have lunch.
After the statement was concluded, Gause said he, along with a team of policemen, went with Chow to a location in Havendale, St Andrew. He said Chow directed them to the location and pointed out a house which he said belonged to Kartel. He said Chow showed them three premises in Havendale.
Cross-examined by Tom Tavares-Finson, who is representing Kartel, Gause was asked whether he thought it prudent to ascertain Chow's correct name. He said 'yes'. Asked what was Chow's correct name, Gause said it was Leonard Chow, otherwise called 'Pow', and he got the name from a reliable source.
Asked if he sought to ascertain Chow's identification from an independent means, Gause said he did not consider that important.
Asked if the informant who brought Chow to his office was someone who was offered monetary reward, Gause said 'yes'. Gause said at the time the informant brought Chow to his office, the informant was not acting as a paid informer.