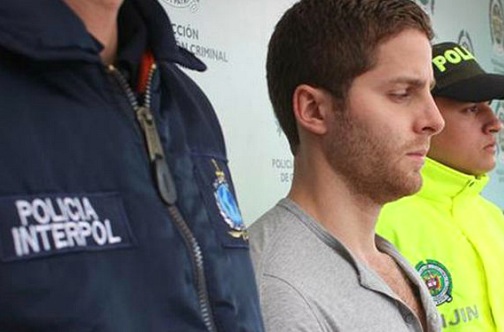 Attorneys representing Jamaican-Panamanian Mayer Mizrachi Matalon, who has been in detention in a Colombian prison since December last year, without being charged, yesterday said they have referred his case to the Inter-American Commission on Human Rights (IACHR).
Lord Gifford, QC, and Caroline Hay explained in a news release that they filed a petition at the IACHR on April 11, 2016 after Panamanian authorities failed to act on a court order instructing that a 'freedom ticket' be sent to Colombia for Mizrachi Matalon's release from La Picota jail in Bogota.
In addition, the attorneys said that a prolonged period of imprisonment would make Mizrachi Matalon vulnerable to serious damage to his health because he has, since early childhood, suffered from a rare health condition.
"I spoke with his Panamanian lawyer this week and he gave me a full report," Lord Gifford told the Jamaica Observer yesterday. "He has appealed to the Panamanian Supreme Court to get the freedom ticket. It's completely out of order, it not being issued, and he's hoping to make some progress there."
Sponsored Links
This is the kind of first lady she wants to be.
CBS News
This game will keep you up all night!
Stormfall: Free Online Game
In his release yesterday, Lord Gifford said the order for the freedom ticket to be sent to Colombia was handed down by the Second Superior Tribunal in Panama on January 18 this year after it found that there was no evidence that Mizrachi Matalon represented a risk to society, and thus granted him bail.
Mizrachi Matalon, an entrepreneur and expert in secure communications technology, has a Jamaican mother and a Panamanian father.
He had travelled from New York, where he operates his company, to Colombia on personal business, but was arrested at Cartagena airport on December 29, 2015 on a 'red notice' issued by Interpol at the request of the Panamanian Government, following an investigation by the Anti-Corruption Prosecutor's Office into alleged breaches associated with a government contract.
"The case arose from a contract which was signed between Mayer's company and the Panamanian authorities in 2014 for the supply, on licence, of a mobile text messaging platform known as Criptext, which allows for secure communications to be passed by mobile phones between 100 members of governmental agencies. The contract was duly performed," the Jamaican attorneys said in their news release.
"The prosecutor's report suggested that the contract had not been fully performed and that public officers involved in the contract were therefore guilty of embezzlement. Mayer was said to be an accessory. He has not been charged, and the allegations made against him, which he denies, would not amount to any criminal conduct," the lawyers added.
"Nevertheless, an Interpol red notice was issued and Mayer was arrested in a humiliating and public manner as a result. An extradition request has been made by Panama, even though the relevant treaty requires that a request can only be made in relation to a person who is the subject of 'an indictment or its equivalent', or who has been convicted of an offence," the attorneys pointed out.
They said that despite the decision of the Second Superior Tribunal in Panama, their client remains in detention.
"In these circumstances a petition was filed on 11th April 2016 before the Inter-American Commission on Human Rights, complaining that the actions of the Panama authorities had resulted in violations of Mayer's rights to liberty and due process," the attorneys said.
"The petition asks for interim measures to be implemented by Panama, including the delivery of the freedom ticket, the suspension of the extradition proceedings, and the cancellation of the red notice," they added.
"I have been shocked by the detention for over four months of a man whose 'offence' was to enter into a bona fide business transaction with the Panamanian Government," the release quotes Lord Gifford. "My colleague Caroline Hay has visited him in La Picota and is most concerned about the effect of detention on his health. Given the international aspects of the case, it is very fitting that the machinery of the Inter-American Commission on Human Rights be set in motion. The petition is being studied by the commission and we hope for a result which will set Mayer free."
Yesterday, Hay told the Sunday Observer that she and her associate, Neco Pagon, visited Mizrachi Matalon on April 7.
"He has autoimmune challenges, which have been set out in the petition. We've named them and he has provided medical evidence in relation to them," Hay said. "They display in terms of weight loss, spots on the skin, fatigue and other symptoms."
She said that on the day she and Pagon visited Mizrachi Matalon — approximately 100 days since he was placed in detention — he had spots on his skin and he had lost about 30 pounds.
"So he's rapidly losing weight, and that morning when we went to see him he reported feeling a seizure coming on because he suffers from seizures as well," she said.
Asked whether her client was receiving medication, Hay said: "I understand that he is getting his medication, but I can't guarantee that he's getting it in a timely manner."
She said that condition, in addition to the stress which Mizrachi Matalon is undergoing because of the case, have been included in his legal team's request for precautionary measures. "We're seeking bail and we want them to pay attention to the health challenges that he has, which are flaring," Hay explained.
"How their system works [is that] you ask for bail, you pay the bond, and then the court issues this freedom ticket which Colombia should be acting on," she said. "So a part of the precautionary measures we ask for is that they be ordered to issue it [freedom ticket]."
Lord Gifford and Hay had previously brought Mizrachi Matalon's case to the Jamaican Government. However, because of the change of Administration after the February 25 General Election, they have now approached new Foreign Affairs Minister Kamina Johnson Smith.
They are scheduled to meet with the minister "towards the end of this month" Lord Gifford said, in order to discuss the steps which might be taken internationally to end the continued detention of the Jamaican.