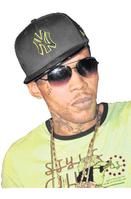 Jurors being empanelled in Kartel murder trial
Monday, November 18, 2013 | 12:09 PM
Print this page Email A Friend!
KINGSTON, Jamaica — Jurors are now being empanelled in the murder trial of popular entertainer Vybz Kartel and five co-accused for the killing of Clive 'Lizard' Williams two years ago.
Selection began Monday morning after the accused pleaded not guilty to the charge.
Justice Lennox Campbell is presiding over proceedings in the Supreme Court.
Kartel, whose given name is Adijah Palmer, along with five other people are on trial for the August 2011 murder of Williams at a house in Havendale, St Andrew.
Kartel's associates Shawn 'Storm' Campbell, Kahira Jones, André St John, Stylist Calvin 'Moonie' Haye, and Shane Williams are also charged with Williams' murder.
Kartel was freed earlier this year on another murder charge in relation to the shooting death of Barrington 'Bossie' Bryan in St Catherine.
Read more: http://www.jamaicaobserver.com/news/Jurors-being-empanelled-in-Kartel-murder-trial#ixzz2l1nVHRby