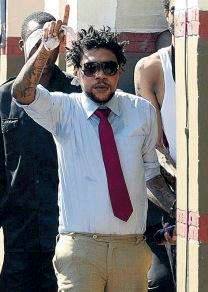 THE defence in the Vybz Kartel murder trial yesterday continued to put forward its case that those who handled the investigation were being less than forthright after it was revealed that two "control" compact discs (CDs) with telephone data had gone missing.
Joseph Simmonds, who had been group head of business risk at telecoms company Digicel, testified under cross-examination from Pierre Rogers that two discs labelled JS1 could not be found.
He said he made those discs and sealed them with evidence tape in an effort to prevent the data being corrupted "intentionally or otherwise". He said the two discs were "off limits" to the police and that he had created them to ensure "fairness and integrity of the system" — fairness to the "judge, jury, the accused men" and himself.
Under further questioning from Rogers, who represents accused Kahira Jones, Simmonds said that "there will be bad apples" in the police force. On Thursday, Simmonds testified under crossexamination from Tom Tavares-Finson that he also made discs labelled JS2, which contained the same information contained on the JS1 discs.
He said then that he would be able to verify that the information on JS2, which was entered into evidence, was that taken from the Digicel system without the control CDs JS1. He said he was informed that JS1 had been lost.
Yesterday, Rogers as well as Michael Lorne, who represents Shawn 'Shawn Storm' Campbell, made heavy weather about whether the police officer — a Corporal Brown — whom Simmonds gave the CDs was the designated or authorised person to receive them in keeping with the law.
Jones, Campbell, Vybz Kartel (whose real name is Adidja Palmer), Shane Williams, and Andre St John are being tried for murder in the alleged beating death of Clive 'Lizard' Williams on August 16, 2011.
Yesterday, Justice Lennox Campbell made an order for Simmonds to provide the maintenance record of the cell sites covering the Corporate Area between May 1, 2011 and June 2012.
The trial got underway some minutes to 12 yesterday — instead of the usual 10 o'clock start time — due to the late arrival of a juror. This caused Campbell to call for an end to the practice of placing the burden of jury duty on those less "economically able to serve".
He said he hasn't seen any of the middle-class people appearing for jury duty. He said people from the tourism and bauxite industries haven't showed for jury duty.
"They fail to appear with such consistency that it seemed to be by desire," Campbell said. The trial continues on Monday when Rogers is to continue cross-examination of Simmonds.