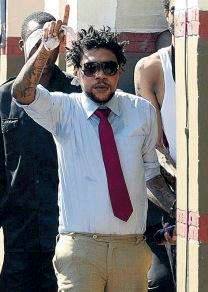 The continuation of the Kartel murder trial began but will reconvene at 2'00pm today. The lawyer for the defense (Tom Tavares- Finson) said he needed time to meet and interview the other witnesses for the prosecution .
" Members of defence were scheduled to meet expert witnesses and interview them. Time, date and place were arranged,but we were told systems that should have given us access to the people were down. So no meeting was held.Our team stayed for thirty minutes. At 9 minutes to six we contacted the DPP and told them that no meeting was held"
, Finson said. The judge then asked if there were any non-technical witnesses and told them that they had quite a few witness left. She also told the prosecution to contact Digicel so that they will be available upon the reconvening of the court's session.