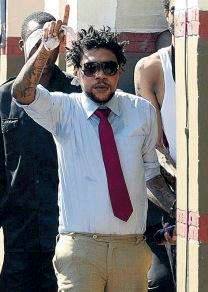 Today, Tom Tavares- Finson, lawyer for the defense in the case of Clive 'Lizard' Williams' murder, told the court that the Organized Crime Investigation Division, acted on a warrant signed by Inspector Williams, a previous witness for the prosecution .
During Finson's presentation of his complaint to the magistrate, he stated that Martins was released but a DVD was taken from him and requested that it be returned. Jermey Taylor, lawyer for the prosecution, denied any involvement in the seizure.The judge advised Finson to seek relief in a higher court.
Director of the Department of Public Prosecutions Paula Llewellyn was said to be present in the court and rose to address the issue. Finson responded by saying,
'We do not wish to facilitate persons who wish to be in limelight. We'll take steps to continue cross exam'.
Llewellyn continued to speak and informed the court that yesterday while listening Nation Wide news, she heard of Martin's arrest and immediately contacted the senior police at the OCID. The senior police was said to have told her that, the OCID was not aware that Martin was a member of Vybz Kartel's defense support staff and he was merely asked to accompany them to their office. Martin was charged early last year with hacking into the DPP's system and is said to be out on bail. In July of 2013, it was discovered that one of the DPP's file that continued information for a previous murder case against Vybz Kartel was reported missing. Those charges were later dismissed.