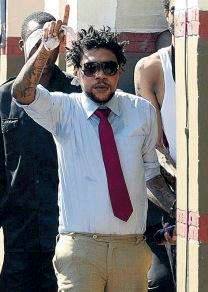 KINGSTON, Jamaica – The prosecution has denied reports that material relevant to the defence of Vybz Kartel and his co-accused was seized from a defence witness on Wednesday.
Today, Tom Tavares-Finson complained to Justice Lennox Campbell that a warrant was prepared by Inspector Warren Williams and executed on Philpots Martin, and that compact discs and a statement were taken.
But, Director of Public Prosecutions Paula Llewellyn, who responded to the complaint, told the court that nothing was been taken from Martin by the police. She said she heard Tavares-Finson on the radio complaining of the move by the police and the Crown to sabotage the defence.
She said she then called the head of the Organised Crime Investigations Division, Superintendent Clifford Chambers, who said he didn't know that Martin was an expert witness for the defence.
Campbell then stood down and ordered that Martin be released.
The complaint and response were made before the jurors. Justice Lennox Campbell then told the jurors: "This does not concern you at all."
The trial continues.