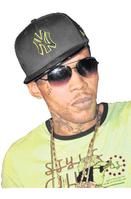 Witness gives tearful testimony at Vybz Kartel trial
— co-accused acquitted
BY PAUL HENRY Crime/Court Co-ordinator [email protected]
Thursday, November 21, 2013
THE sister of the man for whose murder entertainer Vybz Kartel and four other men are being tried testified through tears yesterday that two days before her brother was believed to have been killed, he and another friend had run into her house scared and "white" as if "they had seen a ghost".
The woman's evidence came hours after Calvin Haye, a co-accused of the entertainer, was freed when the prosecution offered no evidence against him. The acquittal of the fashion designer, who goes by the alias "Moonie", came after Justice Lennox Campbell instructed jurors to enter a formal verdict of not guilty.
Haye's acquittal leaves Vybz Kartel, whose name is Adidja Palmer; Shawn 'Shawn Storm' Campbell; Kahira Jones; André St John; and Shane Williams facing trial for the August 16, 2011 murder of Clive 'Lizard' Williams at a house in Havendale, St Andrew.
In opening the prosecution's case yesterday, senior prosecutor Jeremy Taylor told the panel of 12 jurors that Williams, who was a friend of Vybz Kartel and the other accused men, was killed over "a property".
Williams's sister testified in the Home Circuit Court that she was at her house in Portmore, St Catherine, on August 14, 2011 when she heard a commotion and banging on her grille. She said she went into the living room when her brother and a friend of his ran into the living room and ducked down behind the settee.
"They were white and sweating like they had seen a ghost," the woman testified.
She said her husband and children rushed to lock the back and front grilles and doors.
At that point in her evidence the witness broke down into tears, which never stopped until after she left the witness stand at the adjournment of court at 4 o'clock — just over an hour after she started giving evidence.
She said that both her brother and his friend fell to the floor "like their knees couldn't hold them up, sort of like they were fainting".
"They were on the phone talking back and forth," she continued. "They were both texting and pacing back and forth. They looked really frightened and scared."
The woman said she gave the men some instructions and took them to a mall in Portmore where she left them.
"Did you ever see Clive Williams after that?" prosecutor Leighton Moss asked.
The witness broke down further at this point. Her head bowed and shoulders slumped, she took a few moments before responding: "Not again. That was the last time I saw him."
She said she tried calling her brother on Tuesday night, but that the call went to voicemail.
Asked how she would characterise her relationship with her brother, she said: "I loved my brother dearly, but the relationship was tenuous because I kept warning him, but he wouldn't listen.
Moments before her evidence Williams' former girlfriend testified that she had been trying to get him on his phone after 8:00 pm on August 16, 2011, but that her calls also went to voicemail. She said the morning of August 16 was the last time she saw Williams.
She was cross-examined by Tom Tavares-Finson — who along with son Chris appear for Vybz Kartel — and Michael Lorne, Campbell's lawyer.
The trial continues today.