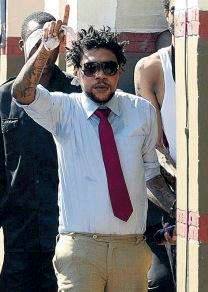 VYBZ KARTEL TRIAL: Text messages detail plot to kill
Published: Monday January 13, 2014 | 6:41 pm 0 Comments
Barbara Gayle, Justice Coordinator
Jurors in the Vybz Kartel murder trial this afternoon heard text message evidence allegedly from Clive 'Lizard' Williams informing his girlfriend that he was being transported to a Havendale house and he feared that he was going to be killed.
Detective corporal Shawn Brown made a PowerPoint presentation of the text messages that were made on August 16, 2011, the same day that Williams was killed, reportedly over two missing guns.
In the series of messages read out in court, Williams allegedly urged his girlfriend to contact his sister for her to call police.
In one of the messages, Williams told his girlfriend that 'Teacha', referring to Vybz Kartel, had sent to call him.
In another message, he told his girlfriend that he was really scared, urging the woman to hurriedly call the police.
He also mentioned that he was being transported in a car to Havendale.
The police believe that Williams was killed at Vybz Kartel's Havendale house.
Today, the court also viewed text message evidence purportedly from Shawn Campbell alias 'Shawn Storm' to Kartel.
In one of the messages, Campbell told Kartel that they had to get back "dem ting deh".
In another message, Campbell sent a message to an unknown person noting that something is going on.
In a series of messages to the same unknown person, Campbell reportedly said people are going to die.
The trial continues in the Home Circuit Court tomorrow.
Kartel is jointly charged with fellow entertainer Shawn Campbell also known as Shawn Storm, Kahira Jones, Shane Williams and Andre St John for the August 16, 2011 murder of Clive 'Lizard' Williams.
Williams was allegedly killed for the disappearance of two guns.
WHAT THE MESSAGES SAID:
Clive Williams to Vybz Kartel – August 8, 2011
3.09 pm – Williams: "Daddy a little thing gwaan. Wi really waan talk to you daddy"
Shawn Campbell to Vybz Kartel – August 16, 2011
3.09 pm – Campbell: Mi boss wi haffi get back dem ting deh, mi boss
3.28 am – Campbell: "Cuz right now, mi not even can sleep, mi boss"
3.29 am – Campbell: "Jah know di likkle time mi close mi eye"
Shawn Campbell to 844-5320- August 16, 2011
1.11 pm – Campbell: "Something a gwaan pon di ends and a serious some ting cuz ppl ago ded don't tell mammy nottin"
1.12 pm – Campbell: "And delete dem txt yah wen mi don txt you
1.20 pm – Campbell: No mi gd
1.21 pm – Campbell: And who tief it ago ded
1.21 pm – Campbell: Soon mek yuh know waah go gwaan
1.43 pm – Campbell: "How much fi deal with every ting fi Lizzy
1.45 pm – Campbell: "ok"
Clive 'Lizard' Williams and his girlfriend
6.53 pm – Williams: "baby, teacha sen call"
6.55 pm – Girlfriend: "What are you going to do bbz"
6.57 pm – Girlfriend: "I couldn't answer, bbz. Sorry"
6.58 pm – Williams: "I'm really SCARED baby, please call police. You have to save me, plz"
6.58 pm – Girlfriend: "jus u alone?"
7.00 pm – Williams: "Please tell Nadine to call police for me please. U have to do it now, please"
7.08 pm – Williams: "tell dem that Vybz Kartel ago kill we, please baby"
7.09 pm – Williams: "please you have to hurry up"
7.11 pm – Williams: "Shawn can't save we, plz. We in a Need a drive go up there"
7.13 pm – Williams: "baby are u sure? Wats the address, bbz?"
7.13 pm – Williams: "tell Nadine to call the police"
7.16 pm – Williams: "baby, please all mi know a Havendale. Please tell dem fi look for Neepha car"
7.18 pm – Williams: "mi deh a Red Hill Road a go up please please"
7.18 pm – Girlfriend: "ok baby, i'm praying for u. Yhou tht ntn doesnt happen i will call" [sic]
7.20 pm – Williams: "tell Nadine don't stop. Please call every min"