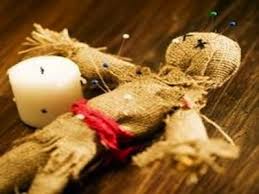 A Jamaican artiste hasn't made it unless he/she has employed the services of a spiritualist /Obeah man/Obeah woman/ Prophetic Pastor.
A spiritualist is employed to keep an artiste's luck and ward away badmind that is said to be rampant in the industry. To date, it is unclear whether their services are effective or not because 9/10 Jamaican entertainers pockets have fallen short.
There is a spiritualist in the Parish of St. Mary, who goes by the name Judge who helped Mr. Piece when he thought Mr. Seaview was throwing spiritual darts his way. It is unclear as to whether Mr. Piece employed the services of Judge in his present debacle with U.S authorities. Mr. Piece is backed by his mother that is a disciple of Pocomania and will chant while breaking bottles of creme soda everyday if possible to keep him brining in the cash. We see a tapering career so the works of mom's Pocomania is up for debate.
The water lady spiritualist is employed by a female Dancehall artiste who we would like to call Footsie. Footsie is of firm belief that Lady Tool is after her career and was allegedly told by another spiritualist that Lady Tool had sought her services. Sources close to Lady Tool say this is untrue because Lady Tool does not visit spiritualists , they visit her. Footsie visits and calls the spiritualist everyday but still hasn't made a mark in the industry.
If you are an avid Karate fan you must know Silver Fox, lets call this artiste that because he is no longer a pup. By looking at his fingers one would think that he loves bling but the four rings are guardians given to him by two spiritualists within his employ. One of the rings is said to stop bullets, the other to ward off evil, another for protection and the other for success in whatever he is doing. A sad turn of events happened last year when one of the rings broke into two equal pieces and his trial that he had expected to be thrown out was pushed back and will proceed. Word is that Silver Fox has one spiritualist in Kingston when he has emergencies and the other spiritualist is located in Portland. Silver Fox was said to have stolen a huge amount in January from his boss , it is unclear if the rings worked in covering up his deception . For all we know it hasn't worked so far.
Lets call him "Di girl dem sweet and low" because he is no longer sugar. Mr. Sweet and Low had a few well known spiritualist under his employ. One of the spiritualist was said to have helped him in gaining back the love of the Jamaican public after the dance fiasco , another used to ward off evil, introduced to him by his ex, the fallen Queen. Mr. Sweet and Low is said to have one of his locks tied around his ankle but tied very low and can only be seen when his shoes is fully off.
What doesn't shine like a diamond or has its value but can be used to jazz up a cheap piece of jewelry is called cubic zirconia . For she is no diamond and calling her Zirconia is surely giving her more respect than she deserves but hey, lets call her that. Zirconia has no shame in her game,whenever she has a show in Jamaica, rest assured that her spiritualist is somewhere in the audience. Zirconia uses soaps, beads, oils and many other means to defeat spiritual wickedness that have been employed to bring her career to nawt. The effects of the spiritual suppression is unclear because like a bamboo fire, so is Zirconia's career. It goes up and down but stays more down than up. Could it be because of the spiritualist she employe's who wants to be forever employed or bad candles are forever being lit for her?
He calls himself an animal, but looks more like a circus. Lets call him Ringling Brothers. Mr. Ringling sure does wear a lot of rings but there is one he doesn't change. That is his "international guard ring". The ring is said to be a deliberate block for Mr. Sweet and Low who was said to have sent him a few blows under the advise of a prior spiritualist . Ringling was told by his "coolie man" from Greenwhich farm that Mr. Sweet and Low had thrown some blows at him in the past and Ringling returned them 1 for 2. A career put down by Ringling in the late 1990ties was said to have prompted a confession from Ringling himself after seeing that his career had taken a nose dive.
The most dangerous of all, was mentioned earlier in this post but an elaboration of how he operates is very necessary. People with gifts and callings will feel an increase in the size of their head when they are close to him.He is heavy. I am told that he is stealer of destinies and will call people close to him to steal their energies. No one knows his spiritualist but he has been revealed by many spiritualists who get the message to warn parties close to him. He will suck you in, to clean you out. Women don't see success with him or after him. They will have seen success before engaging with him or through a better spiritualist than the one he uses . Men in close proximity will be sucked dry and turned to mere foot stools . His success is in draining each victim and he will pay good money to achieve this is what is being said in the streets. With all his doings , it is evident that his spiritualist only specializes in the dark arts, although word is that his visa will be returned and yes,we will wait patiently to see if he will return to his former glory.
**PART 3 WHEN IT COMES WILL BE WHO MAD WHO AND WHO TIE WHO**