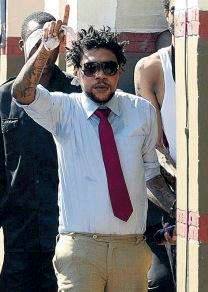 Lawyer accuses key witness in Kartel murder trial of lying
DEFENCE attorney Tom Tavares-Finson yesterday came out shooting from the hip as he attempted to discredit the prosecution's star witness
in the murder trial of entertainer Vybz Kartel and four other men at the Supreme Court in downtown Kingston.
Kartel, Shawn 'Shawn Storm' Campbell, André St John, Kahira Jones, and Shane Williams are jointly charged with the August 2011 murder of Clive 'Lizard' Williams.
The witness, who on Tuesday testified that he was present at a house when Williams was attacked, seemed ready for the attorney's onslaught, appearing more confident and not as shaky as he did on the first day he took the witness stand.
Tavares-Finson hinted that the witness was lying when he testified under oath that himself, Campbell and Williams had gone to a house at Swallowfield Avenue in Havendale, St Andrew, owned by Kartel, whose real name is Adidja Palmer.
Instead Tavares-Finson insisted that it was the witness alone who went to the premises.
"You entered the premises and went up to speak with Adidja Palmer, who was standing at the front with a young lady," Tavares-Finson bellowed.
"The three of us went in," the witness replied.
"You never went inside that house," the attorney shot back.
But the witness was unfazed.
"Three of us went in," he said.
Tavares-Finson then suggested that the witness's account of how Kartel was bitten by a pit bull was concocted.
"That pit bull attacked you in the yard and in trying to protect you, it bit Mr Palmer," the attorney said.
"No such thing," the witness replied.
"And that is why you hailed a cab and he was not hopping behind you," Tavares-Finson went on.
But the witness's reply caused the crammed court room to erupt in laughter.
"You were there, sir? You were there?" he asked.
At that point Justice Lennox Campbell intervened and informed the witness that his behaviour was inappropriate as the attorney was asking questions on behalf of his client.
The judge had earlier cautioned the witness after he looked inside the prisone's dock and sent a birthday greeting to Campbell.
"Siba, today a you strong, you know. Bless up," he said, flashing what appeared to be a mocking smile.
However, the greeting was met with a stony-faced gaze by Campbell, who seemed unappreciative.
Tavares-Finson also attacked the witness's credibility by pointing out inconsistencies in the three statements he gave to the police and the testimony he offered in court.
He also accused the witness of conspiring with police investigators to cook up a charge against his former friends.
"I am suggesting that story was made up by you and the police investigators in this case," Tavares-Finson said.
"No such thing," the witness replied.
Tavares-Finson also accused the witness of leading a life of crime, as he had been responsible for an illegal firearm and asked whether the witness had ever been charged for any gun-related crime.
The witness denied being charged.
Tavares-Finson also queried why, after running for his life, the witness decided to put Kartel in a taxi, take him to the Andrews Memorial Hospital and wait for him to get treated.
He explained his reason for staying at the hospital with Kartel, even though he had earlier witnessed the attack on Williams.
"Me did just want make him know say me never involve in what a go on," he said.
The witness admitted that after they left the hospital in a taxi with Kartel, he went to a guest house where he saw Kahira Jones, André St John and another man whose name he did not know.
At that point the attorney asked him who paid his taxi fare to go to Waterford in Portmore, St Catherine, and the witness replied that it was Kartel who forked out the cash.
Earlier, during his evidence in chief, when he was being examined by lead prosecutor Jeremy Taylor, the witness testified that Kartel had bought tickets for him as well as for himself and Campbell to travel to Guyana as they wanted to avoid anyone questioning them about Williams's disappearance.
The tickets were bought at the Norman Manley International Airport, he said, but the flight had already left so they postponed their flight until two days later.
However, the witness said he decided not to take the trip. He also said he had given his passport to Campbell, who informed him that they would be travelling to Guyana, but that his passport was not returned to him.
The witness, under cross-examination, also testified that he was picked up in St Thomas by three car loads of policemen who questioned him about the disappearance of Williams.
The trial is expected to continue today when Justice Campbell will hand down his decision on a request by Tavares-Finson that the prosecution hand over a statement on how the star witness was prepared for the trial.