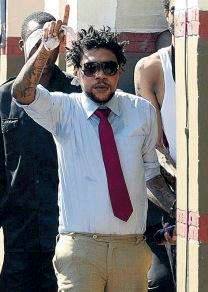 JUSTICE Lennox Campbell yesterday ruled in favour of the prosecution regarding evidence related to information on his cellphone to be put before the jurors in the Vybz Kartel murder trial in the Home Circuit Court.
Campbell made the ruling following submissions at the end of a voir dire (trial within a trial) while had been going on before the trial went on a break for the Christmas holidays. The voir dire was conducted outside the hearing of the jurors.
The jurors will continue hearing evidence in the matter when the trial resumes today.
Vybz Kartel, whose real name is Adidja Palmer; Shawn 'Shawn Storm' Campbell; Shane Williams; Andre St John; and Kahira Jones are being tried for murder in the alleged beating death of Clive 'Lizard' Williams on August 16, 2011.