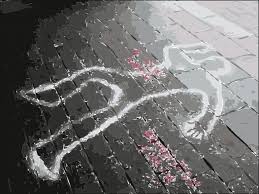 One man is dead, and his stepfather has been hospitalised nursing gunshot wounds, following a gun attack, at a house in Colleyville, Manchester, this morning (Oct 5).
Dead is thirty-one year old, Brian Chambers of Colleyville.
The wounded man is a 72-year-old farmer.
Reports are that chambers who had just returned from overseas, his girlfriend, mother, and step father retired to bed.
Police say about 2:25 a.m. gunmen kicked open the door to the house, and opened fire hitting Chambers and his stepfather.
Chambers is reported to have crawled through a window, but died in his yard.
Further reports are that the two armed robbers made off with an undetermined sum of money, and before leaving slashed the tires of a car that was parked in the yard.
Councillor Caretaker for the Craig Head Division, Gary Rowe, who was early on the scene, says chambers was an ambitious person.
While expressing condolences to the family, he is reminding residents particularly those returning to the country, to be careful of the information they provide regarding their return.