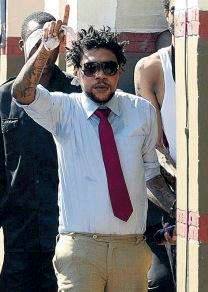 PROSECUTION witness Sergeant Patrick Linton was last Friday accused of fabricating evidence in the Vybz Kartel murder trial. He was tackled on a number of issues, including inconsistencies in his statements and his failure to verify information from a BlackBerry cellphone with its maker Research in Motion (RIM).
Vybz Kartel, whose real name is Adidja Palmer; Andre 'Mad Suss' St John; Shane Williams; Shawn 'Shawn Storm' Campbell; and Kahira Jones have been on trial in the Home Circuit Court for the alleged August 16, 2011 murder of Clive 'Lizard' Williams over the disappearance of two illegal guns.
On Friday, Linton was told by attorney Michael Lorne, who is representing Campbell, that the information he got from a BlackBerry phone in the matter was made up. However, this was denied by the former Police Cybercrimes Unit boss.
But Lorne continued, suggesting that messages discussing arrangements for an accused in the matter to go to Cuba and other places were made up by Linton and his colleagues, to which the sergeant responded, "No, My Lord."
At another point, Lorne asked Linton if he had gone to RIM to verify information he got from the phone, but Linton said that RIM wouldn't have given out the information due to privacy issues. However, Lorne pointed out that the information could have been had with a warrant, and when asked if he was familiar with the company's privacy policy Linton said 'no'.
Lorne then suggested that Linton did not seek to verify the information with RIM (which is now known as BlackBerry) because he knew that "some of the information" he provided to the court wasn't found on the phone given to him. But Linton said that all the information was "extracted" from the phone.
The attorney suggested that the messages with the name 'Shawn' in them were also made up and designed to implicate the accused man, but Linton denied the suggestions. Linton said, however, that the 'Shawn' name isn't mentioned anywhere in his digital forensic report of November 2011.
On another point, Linton said he didn't record on his list of items the SD card off which he lifted the information.
Also on Friday, the jurors reacted in apparent surprise when Lorne brought out that Linton had said in a statement that he had used a particular machine, that was not designed for law enforcement purposes, to lift the information from the SD card. But Linton said he had made a mistake when he said he used that machine and that he had corrected it in his further statement.
"At least 10 times, Mr Linton, you made a mistake in your report?" Lorne asked.
"Yes, counsel," Linton replied.
But Lorne suggested that Linton sought to change his statement regarding the machine because some of the data he said he took from the phone could not have been lifted using the machine he said he used in the first statement. However, Linton said that the machine named in the further statement was the one he used. (Reporters have been asked not to name the machine used in the matter.)
Meanwhile, Linton was questioned at length by attorney Tamika Harris, who is representing St John, as to whether he could say for certain that markings he saw on the arms of a person on a video were really tattoos and not body paint. Harris' probing of the issue was meant to show that a person cannot really be identified by tattoos.
The trial continues tomorrow with Linton's cross-examination by Harris.