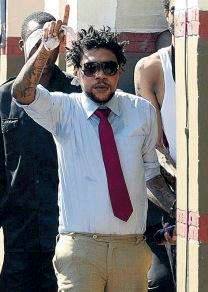 VYBZ KARTEL TRIAL: Prosecutor's key witness says he was given a gun to hide
Published: Friday November 29, 2013 | 1:56 pm 0 Comments
Barbara Gayle, Justice Coordinator
The key witness in the Vybz Kartel murder case is now being cross examined by attorney-at-law Pierre Rogers.
Kartel and four other are charged with the murder of Clive 'Lizard' Williams.
Under cross examination by attorney Roger Pierre, the witness testified that he was not telling a lie when he said he did not have a gun on August 16, 2011, the day on which Lizard was allegedly killed.
He said when he went home on that night from Havendale, a man named Bandit gave him a gun to lock.
Questioned by the judge what he meant by lock the witness explained that it meant to hide it.
He said he then buried the gun.
When asked if he had told the police about the gun he had hidden he said yes but he was not charged in connection with the weapon.
He also denied suggestions that he made up a story with the help of the police.
Rogers also suggested to him that when he told lies it was the details that gave him trouble.
However, the witness responded saying he does not tell big lies but admitted that in his 25 years he has told little lies.
He then exclaimed that everybody tell lies and denied suggestions that he was telling half-baked stories to the court.
Rogers then asked him he heard about the 12 pieces of silver that Jesus was sold for but attorney-at-law Susan Dodd corrected him and said it was 30 pieces.
Roger then asked the witness if he got 30 pieces of silver but the witness said no.
The witness's aunt, who he said was present when he gave his statement to the police on August 24, 2011, was brought into court this morning.
The witness again denied that he gave the woman a letter to take to the Public Defender.