You made up Lizard's murder story to get off a gun charge, attorney tells key witness
Friday, November 29, 2013 | 11:57 AM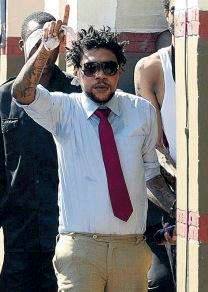 KINGSTON, Jamaica — Defence in the murder trial of Dancehall DJ Vybz Kartel Friday morning suggested that the prosecution's main witness made up the story of Clive 'Lizard' Williams' murder, with the help of the police, to get off of a gun charge.
The witness said that on the night of August 16, 2011 when he went home he was given a gun which he buried.
Attorney Pierre Rogers suggested that he made up the story about Kartel and the other men killing Lizard after the police went to his yard and found that he had a gun.
The witness said he was not charged by the police but denied that this was in exchange for him making up a story about Kartel.
He said that he wasn't charged because the police did not find the gun.
Rogers then said that the witness "sold the accused men for 30 pieces of silver just like Judas did Jesus".
— Paul Henry