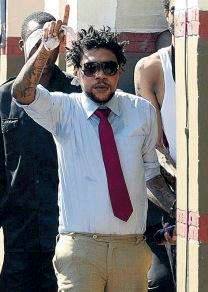 KINGSTON, Jamaica:
The Vybz Kartel murder trial continued this afternoon with Constable Kemar Wilks from the Cybercrimes Unit testifying that on November 24,2011, former head of the Cybercrimes Unit, Detective Sergeant Patrick Linton, gave him two compact discs or CDs.
Wilks said one of the discs contained video and the other contained voice messages from a BlackBerry phone.
He said he deciphered and recorded what was on the discs.
The deciphered documents were tendered in evidence despite objections from the defence lawyers that Linton had testified that he could not speak to the integrity of the discs.
The transcript was read to the jury.
It indicated that a man identified as 'Lizard' and another identified as 'Wee' called saying they could not find the two new shoes.
There were also threats to kill if the shoes were not returned.
Wilks said there were voices on the video and in one of the recordings, a voice was giving instructions for a man to be held down and for his throat to be cut.
Kartel, fellow entertainer Shawn Campbell also known as 'Shawn Storm', Kahira Jones, Shane Williams and Andre St John are on trial in the Home Circuit Court for the August 16, 2011 murder of Clive 'Lizard' Williams.
Williams was allegedly killed in relation to two missing guns.
Meanwhile, under cross-examination by defence lawyer Pierre Rogers, Constable Wilks said that videos and voices could be manipulated.
He said he did not see the faces of anybody on the video but saw their lips moving.
Under cross-examination by defence lawyer Michael Lorne, Constable Wilks said he could not vouch for the integrity of the items which he received from Detective Sergeant Linton.
Linton has testified that he had locked up the BlackBerry phones he received from the Flying Squad but left the key on top of his locker.
He also admitted that someone had used the phone attributed to Kartel while it was in his custody.