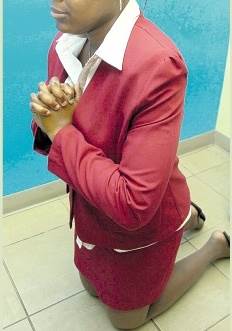 THEY'RE usually seen as the cream of the crop — saved, sanctified, untouched and ready to commit for life. They won't cheat, won't yield to temptation and won't crave the things worldly women do. They will love, honour, obey and see you as the man of the house, the king. But many men shy away from Christian women despite these attributes, leaving the church pews filled with eligible women and very few takers, and this week they're telling why.
Richard G, non-Christian:
It's more like not wanting to touch the Lord's anointed. Christian women like to talk about marriage and most men don't like to feel as if they are being forced into something they're not ready for. Also, most men want to test the water, to see if it's what they expected. What if you run into marriage and you can't satisfy her needs? What if she can't satisfy yours?
Damion G, non-Christian:
Lots of women in the church are there because they have gone through some kind of emotional relationship or financial issues. Sometimes they are in church to clear baggage. This baggage is bound to show up in other relationships. The idea of holding out on sex is another thing, and also wanting to take the man to church. Jamaican men tend to seek the path of least resistance.
Sean J, Christian:
We're all humans and if we fall, she's going to come with something like, 'Let us pray together and ask for forgiveness'. If it was a non-Christian woman she would just leave it alone and let me deal with my sins.
Christopher B, Christian:
You can't get to do what you want to do. When you really think about it, a worldian woman is not afraid of anything, but a church girl will behave like if she sins, the world will end, or she will be a hypocrite about it. Furthermore, you have to go get approval from pastor, mother, father, and even her dog. I'm not about that life!
Matthew F, non-Christian:
The limitations are too much. 'I can't do this and I can't do that', because she's afraid pastor sees us. The most functional place to bring her is probably Hope Gardens or Emancipation Park. It's not practical, because we won't be on the same page.
Ricardo J, Christian:
I've tried dating Christian women and they are too complex with too many ground rules. As a Christian I hold fast to remaining sexually pure until marriage but if I'm courting, you can't expect me to not hug you or even give you a light kiss. I can't function like that so I'd rather date a non-Christian girl who's practical and then try and lead her to God. At least she would have seen both worlds and be better able to act in a rational way.
And women tell why they won't date Christian men
Regina D, Christian:
When I'm doing what I'm doing, I don't want to hear how good God is, I already know that. I already know you're spiritual and grounded. Why can't you tell me that you like me, that my smile is bright and my eyes are nice? Is that sinning? Come on! I find that guys in the world will respect my position being a Christian, seeing that it's just simple dating, and even then they still make me feel special and we still talk about God, but it doesn't feel like a Bible study.
Sharlene A, Christian
They try to be too much of a knight in shining armour and end up being a man in foil paper. Their level of awkwardness is at a different level. It's like if they say they like you the world will end and when they are brave enough to be straightforward, it comes off as pushy. It's almost as if they just can't be normal and have a normal courtship. It's extremities on a different level — from being too holy to being too awkward is too much. I prefer men outside of church, because their minds are more open. If it's even to have a friend to talk to, the reasoning ability is far better.
Keisha F, non-Christian:
Simply because I need to be having sex and he would probably tell me no. Can't deal with that.
Nastacia C, Christian:
I fear dating Christian men, because they can be very judgemental. They all want a virgin wife, untouched without spot or blemish, and most of them aren't perfect. They are not willing to see that you are a changed person and they judge you based on your sinful lifestyle and refuse to see that you have now given your life over to serving God.
Nicole L, non-Christian:
The situation would be too complex. Imagine if I want to get comfortable with him and lean in for a kiss and he rebukes me and anoints me with olive oil. Unless he's down-to-earth and not stupid, it won't work. It's not that I would want to have sex with him, but I would want to be shown love in a practical way.
Georgette R, non-Christian:
Too many detailed rules. I believe in companionship and showing love without holding back. I don't want anybody to tell me about the seven deadly sins and to be focusing on fornication. So I stay far from such situations and stick to my kind.