A DI SWEETEST CHILD SUPPORT LETTER MI EVA GET AND DASH OUT FROM DIIIIII HISTRIE A JMG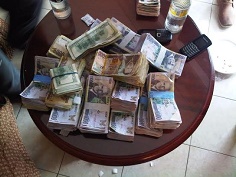 Dear Jermaine hothead Tibby.
Kelzwelbless Tibby husband. I am in search of my baby father. My baby recently turned one and Last I heard of him he got married to kelisha Hamilton. I heard he moved to LA off Crenshaw blvd. Where he is tricking woman to mind his wife and son in the bronx. However it's unclear to me that my boys aren't reaping the benefits of his residual income. A long with the 7 other kids. Hothead tibby, shower tibby, Jermaine tibby your day is coming. I am not bitter I just want kelz to give you your papers 90 days has long passed since the infamous july 20th wedding and I need for child support to find you. For some unknown reason you think you are gonna be under the radar forever. One thing I have learned in life is every dog have their day. Never you take a woman's kindness for weakness cause in the long run you will be scorned. You army is crumbling one by one. You all prey on innocent women to get ahead in life and the only destination you guys are reaching seems to be is behind those concrete walls. I left you alone for over a year hothead tibby for you to get your act together step up to the plate like how I rescued from the streets when you were down and out. I cleaned you up for licky licky kelz. Yet! I have yet to see the benefits of my labor. Mr. Tibbs my patience is wearing thin I do wish you and your dance hall mattress of a bride the very best of luck in the coming new year. Please keep her occupied so that when she can't find u over there in LA she don't teck set on me. Cause I wouldn't touch you with a imitation pu**y.