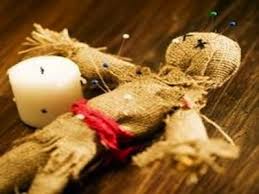 Hi Met
There is a locally televised Christian programme on Sundays called breakthrough. I will try to get the Pastor's name but suffice to say I'm deeply troubled by the antics of this Pastor.In particular he has this penchant for throwing words and shading the congregation.
Recently he went on National television chanting fire against obeah workers, which I suppose is fine.Except in this case, pastor was cussing the congregation that some a unno must stop sleeping with Monkey fi the obeah work.
Met what I want to know is where does he get off?Have you heard of any obeah rituals requiring a monkey. What does he means by sleeping with? He was referring to the sleeping of monkey to tie people man.Now which girl a guh sleep with a monkey to get and keep a man?I know for a fact this pastor is not the sharpest tool in the shed.Mainly because there aren't even monkeys at the zoo in Jamaica, so how would private citizens get hold of them?When last can anyone in Jamaica claims they've seen a monkey? Sponsors stop sponsoring this looney tune Pastor!